RHI, Stormont talks and Brexit: A packed political calendar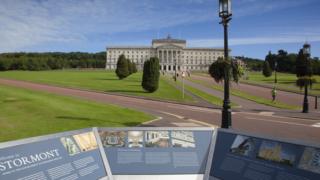 Summer usually means reporters working the political beat get a break - to relax, refresh and regroup ahead of the new "school year".
That wasn't quite the case in July: It saw the prime minister make a trip to Belfast, MPS voted to suspend DUP MP Ian Paisley from Parliament and a court ruling led to significant ramifications for what decisions civil servants at Stormont can take without ministers.
Journalists rejoiced at a quieter August, because anyone who's been keeping an eye on political happenings will have noticed the calendar is jam-packed once again in September.
Here's what to expect over the next month.
RHI inquiry resumes
It starts, perhaps fittingly, with the return of the inquiry into the flawed green energy scandal, which brought down the Northern Ireland Assembly more than 19 months ago.
The Renewable Heat Incentive (RHI) inquiry has heard more than 80 days of evidence, so far, with the most revelatory set to start this month.
One of its key witnesses - former DUP MLA and enterprise minister Jonathan Bell - takes the stand on Thursday, two days after his former permanent secretary, Dr Andrew McCormick, returns to face more questioning.
When details of the RHI scandal first emerged, Mr Bell claimed DUP advisers had prevented him from closing the scheme when its costs were rising rapidly, a claim that they denied.
The public inquiry was set up to investigate that claim, and to establish why the Northern Ireland scheme did not contain the same cost controls as a similar scheme in Great Britain.
BBC News NI will have live coverage of every hearing as the inquiry continues throughout the autumn.
Stormont - talks about talks?
There has been virtually no progress or anything resembling a new approach at Stormont since talks collapsed in February, and Northern Ireland has now been without government for 19 months and counting.
But are things likely to improve anytime soon?
In July, Taoiseach (Irish prime minister) Leo Varadkar said his government and the UK government were planning a new round of talks for the autumn - but there's been no confirmation of a date yet.
That led Alliance leader Naomi Long to take things into her own hands, issuing an invite to all the parties to meet her at Stormont later on Monday to kick start things.
Sinn Féin said its Stormont leader Michelle O'Neill would be unable to go as she's at a party leadership event in Cavan, while the DUP said Arlene Foster had spoken to Naomi Long, but did not confirm if the party would be sending anyone to the meeting.
One thing is clear: the relationship between the DUP and Sinn Féin seems as bitter now as it did when Stormont first collapsed.
In this case, time hasn't been a healer.
Ian Paisley and the petition
In July, MPs voted to suspend North Antrim MP Ian Paisley from Parliament after he was found to have breached parliamentary rules for failing to declare two family holidays paid for by the Sri Lankan government and lobbying on its behalf at Westminster.
The 30-sitting day suspension, which is due to start on Tuesday when Parliament resumes after summer recess, also triggered a recent addition in UK politics: the recall petition.
It means if 10% (or 7,543) of Mr Paisley's constituents in North Antrim sign it, he loses his seat and a by-election will be held.
The petition is due to close on 19 September.
It'll then be up to the chief electoral officer for Northern Ireland, Virginia McVea, to announce if the number of signatures has reached or surpassed the threshold for Mr Paisley to lose his seat.
Mr Paisley said he will not resign, and also indicated he will run again if a by-election is called.
What about Brexit?
The million dollar question.
Well, 29 September means there will be exactly six months left until the UK is due to leave the EU - and there's still plenty that needs to be sorted out.
The stumbling block remains avoiding a hard Irish border, and no doubt there will be much talk about it over the course of September, ahead of the crunch EU summit in October.
Here's a handy Q&A guide to why the Irish border has been so difficult to resolve during the negotiations so far.
Irish presidential election
Okay, so the election isn't actually taking place until 26 October, but nominations for candidates close at the end of September.
Sinn Féin is also due to announce who it's putting forward to challenge incumbent Michael D Higgins on 16 September, after its high council (Ard Chomhairle) meets.
A number of independents have already declared they will contest the race, and it's only the second time ever that a sitting president has had to face a challenger.
Party conferences
Last but not least, September means it's annual party conference season again.
Parliament breaks again for recess on 13 September with Labour's conference beginning on 23 September, followed by the Conservative Party's, which starts on 30 September.
In Northern Ireland, only two parties have not held their 2018 conferences yet: the Ulster Unionists - it takes place on 20 October, and the DUP, who have not announced a date yet.
There is plenty to keep up with, but BBC News NI will have all the latest developments on these political stories and more throughout the autumn.