Stormont deadlock: The crisis that spawned a video game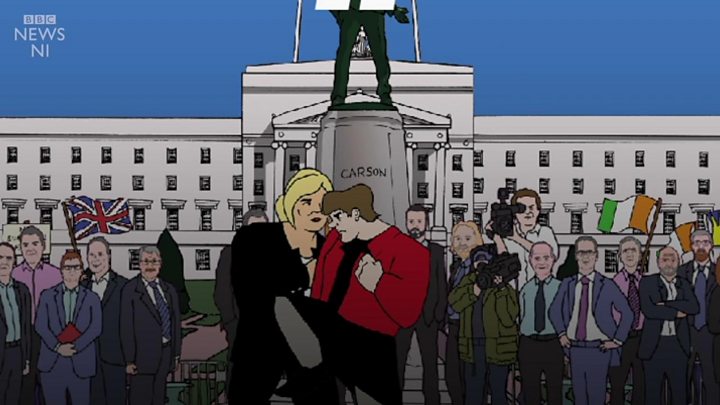 Politics is often seen as a game but rarely does a political crisis form the basis for an actual video game.
Northern Ireland hasn't had a devolved government for 18 months, after a power-sharing deal between the two main parties - the DUP and Sinn Féin - collapsed.
Since then there have been two elections, lots of political rows and several deal-or-no-deal situations - with no sign of an end to the deadlock.
Now, the political parties are gearing up for a fight: albeit in the glorious eight-bit quality that only an arcade-style video game can provide.
Super Stormont Deadlock takes its inspiration from the popular fighting game, Street Fighter, except in this version it's the assembly members putting up their fists.
The artist behind it is Andrew Pope, who is 23 years old and lives in Belfast.
He began working on the project last December, but only completed it in July.
"There were a few versions of the project before it became a game," he told BBC News NI.
"When I moved back home from university in Scotland, the whole idea of the deadlock and the systemic crisis was rattling around in my head and it was something I wanted to put on paper."
But it went through several incarnations including a short animation and a comic book before Andrew settled on a video game, after playing Street Fighter 2 and drawing parallels between the impasse at Stormont and a virtual fight-em-up.
'Silver lining'
"A big part of the problem with Stormont is that if you look at it like a zero-sum game where there are clear winners and losers, then you can't get anywhere," he said.
"That was the point I was trying to make - it's not a way to solve the crisis but it seems to be the only way that's being pursued by the two main parties."
Hand-crafting a video game from scratch and drawing politicians from all of Northern Ireland's main parties, takes time and effort - luckily Andrew has some skills in that area.
"My father was an art teacher and I've been doodling since I was no age," he said.
Andrew sketched every character and background by hand in pencil and ink before scanning them all into his computer to build the game.
He even roped in his girlfriend, Katherine McKnight, who made the eight-bit style music giving the game that authentic arcade sound.
"I was thinking the deadlock may well end before I finished it, which would have been good for Northern Ireland - but for me, the silver lining is that the deadlock didn't end by the time I put the game out," he added.
Once the two players have selected a character, battle can commence but there's a further catch.
"You can only play as Arlene Foster and Michelle O'Neill. It says you can unlock all the others but there's no system for doing that," Andrew said.
"It's an extra joke because it says you have to win more seats, but there's no method to call an election. It relates to how I think a lot of the smaller voices have been locked out of the debate at Stormont.
"Particularly in terms of how the crisis is represented in the rest of the UK, you don't get to hear many parties outside of the DUP and Sinn Féin."
Sequel?
But what about the fight itself: is it fisticuffs based on political point-scoring and can one player, for example, deploy a petition of concern to block their opponent from striking a blow?
"You can attack each other but you can't score a hit, both characters block every attack," said Andrew.
"With the petition of concern and how discourse in Stormont works, there's no way for either of the parties to win. So in the game it doesn't matter what attacks you're landing, it's pre-determined how it's going to work and that's why both characters block everything.
"It's frustrating that we don't have a government and haven't had one for so long, and I stand by the point I'm making with the game."
Not all of Northern Ireland's political hitters make an appearance in the game but if things remain as they are for much longer, Andrew might have to go back to the drawing board.
Could "Super Stormont Deadlock 2: Direct Rule" be on the cards?
"I think (Northern Ireland Secretary) Karen Bradley might know better than I would about the chances of direct rule, but if that's the way we're heading, it would be a worthwhile sequel," said Andrew.