David Davis 'disagreed with UK's NI Brexit policy'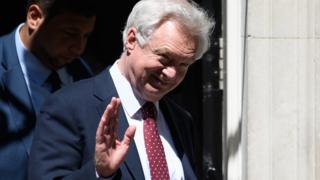 The former Brexit Secretary David Davis has revealed he disagreed with the language on Northern Ireland used in the UK's interim agreement with the EU.
The two sides agreed in December that any deal would avoid a hard border.
That included a "backstop" clause that would apply if the border cannot be kept as frictionless as it is now in the context of the wider deal.
The EU has proposed a backstop that would mean Northern Ireland staying in the EU customs union.
It would also see the region remain in large parts of the single market and the EU VAT system.
The UK government has rejected it as a threat to the integrity of the UK.
'Proceed at pace'
Mr Davis, who resigned on Sunday, said that at the time he disagreed with the prime minister's policy but accepted collective responsibility.
He also revealed that he disagreed with Theresa May's backstop proposal, which dealt with customs issues.
In his resignation letter Mr Davis said the proposal "omitted the strict conditions that I requested and believed we had agreed".
The prime minister has appointed the housing minister Dominic Raab as her new Brexit secretary - he was a prominent Leave campaigner during the EU referendum in 2016.
The DUP's deputy leader Nigel Dodds said he was "sorry to see" Mr Davis quit.
But it "doesn't come as a great surprise" given the "more direct role" the prime minister had adopted in the Brexit process, he added.
The new Brexit secretary would have to proceed "at pace" in the negotiations with the EU, said the North Belfast MP.
"It has got to be the substance of the negotiations - we are going to leave the European Union on 29 March 2019."
Sinn Féin's Máirtín Ó Muilleoir warned that "infighting" in the Conservative Party should not provide an "additional obstacle" in the Brexit talks.