Arlene Foster: DUP leader's gestures get mixed reaction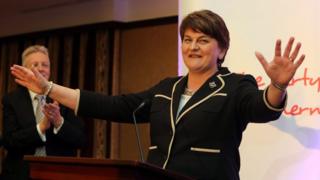 Two months ago, Sinn Féin president Mary-Lou McDonald was praised for using the "L-word", in a nod to Northern Ireland's unionists.
The word was "Londonderry" - a gesture to show unionists that some republicans are open to using different language to help foster a shared society.
In the days that followed, unionists were criticised for not making similar efforts to reach out to their nationalist neighbours.
Perhaps Arlene Foster - the leader of Northern Ireland's largest unionist party (the DUP) - was listening, because over the past fortnight she's been on a sort-of political pilgrimage.
At the very least, she has been on a journey not everyone expected her to take.
It has seen the former first minister attempt to extend a "hand of friendship" to communities that have not always received the warmest of treatment from the DUP.
She started with a visit to Belfast's Islamic festival Eid al-Fit, meeting local Muslim leaders and getting a temporary henna tattoo stencilled onto the back of her hand.
It seemed in stark contrast to 2014, when her predecessor Peter Robinson caused controversy after he told a newspaper he would not trust Muslims involved in violence or those devoted to Sharia law, but would "trust them to go to the shops" for him.
Mrs Foster made headlines again the following week, becoming the first senior unionist politician to cross the Irish border to attend a GAA game.
She was joined by her party colleague Christopher Stalford, who told BBC Radio Ulster's Talkback programme that it was a "positive step" towards reconciliation in Northern Ireland.
"It was a sporting event, let's not over-egg the pudding - but symbolism does matter in a society like Northern Ireland," he added.
"This was important in the sense of: 'You have nothing to fear from our culture and we have nothing to fear from yours.'"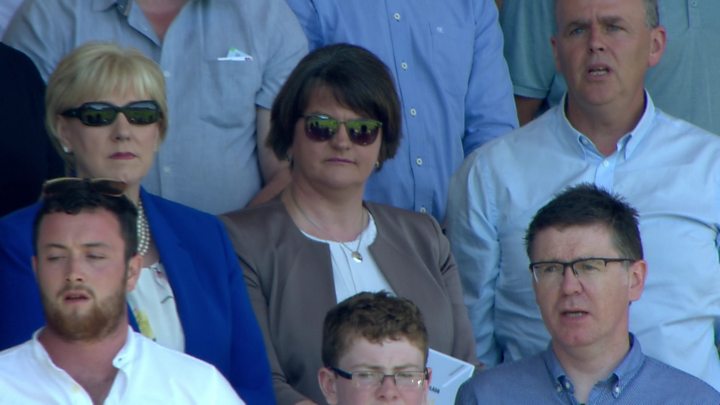 The fact the event took place on a Sunday is what actually drew criticism from within her own party, which has many deeply religious members.
One DUP councillor even said Mrs Foster had "flouted the Lord's day" by going to the match.
But those speaking in opposition to her attendance will have been outweighed by those who spoke in support of the DUP leader.
'Mutual appreciation?'
Jon Tonge - professor of politics and author of The Democratic Unionist Party: From Protest to Power - said her attempts at outreach appeared genuine.
"I do buy it - Arlene Foster recognises that she has to soften her image," he said.
"She has perhaps taken the view that while devolution is in deep freeze, it's not an excuse for abandoning reconciliation. We've had mere mutual tolerance up to now, but can we have mutual appreciation?
"It doesn't solve all the problems, but maybe there can at least be a societal thawing while Stormont is in paralysis."
But not everyone has taken the DUP leader's gestures at face value.
The Ulster Unionist MLA Alan Chambers said Mrs Foster appeared to be on a "charm offensive", suggesting that rather than handshakes and gestures, the DUP and Sinn Féin should get back into government.
"To restore an executive for a short time-limited period to clear the decks of outstanding issues would be a huge gesture, and one welcomed not just by sections of the community but by everyone in Northern Ireland."
Political choreography
Northern Ireland has been without a functioning devolved government since a power-sharing coalition between the DUP and Sinn Féin collapsed almost 18 months ago.
Speculation has mounted in recent weeks that the DUP and Sinn Féin could be starting preparations for a fresh round of talks after the summer.
This sort of political choreography has been seen before, however, and a breakthrough any time soon looks unlikely.
When it comes to an Irish language act and legacy matters, the two big parties are still in their corners with neither prepared to budge.
That being said, Thursday saw a rare appearance of the five Stormont party leaders together in Parliament Buildings.
The occasion - an LGBT event hosted by PinkNews - marked another first by the current DUP leader.
Northern Ireland is the only part of the UK where same-sex marriage is illegal.
The DUP is staunchly opposed to any moves to change the current law and on several occasions has used a mechanism, known as a "petition of concern", to essentially veto any proposed legislation.
While Mrs Foster's presence at Thursday's event was notable, nothing in her speech indicated that the DUP would consider shifting its stance.
'Misses the point'
SDLP leader Colum Eastwood said Mrs Foster needed to go further than simply showing up and giving speeches, adding: "It's good if it's the beginning of a journey, but if it's the end of a journey, then it's nothing."
Andersonstown News columnist Andrée Murphy said she felt the DUP leader "always misses the point".
"Just going to this event after so much hurt has been caused to the LGBT community isn't enough," she said.
"Doing these staged minimalist in-the-room moments without actually turning those words into actions insults the intelligence of so many people. It isn't going to cut it much longer."
The timing of the DUP leader's attempts at outreach comes just weeks after her predecessor Peter Robinson gave a speech where he mentioned the importance of political leadership.
Mrs Foster was among those in the audience that evening, and rejected claims that Mr Robinson was referring to her leadership of the DUP.
'Take people with you'
But Professor Jon Tonge believes it is no coincidence that Arlene Foster and the DUP are now making moves to reach out to other communities.
"There is a recognition that if you have or have had the title of first minister, you must be a first minister and leader for all the people of Northern Ireland," he said.
"You have to take people with you."
But will Arlene Foster be able to?
For the leader who once said she did not do "gesture politics", she might find herself having to do much more and turn it into action, in order to win over her sceptics.