DUP-Tory deal: Is it delivering what it promised?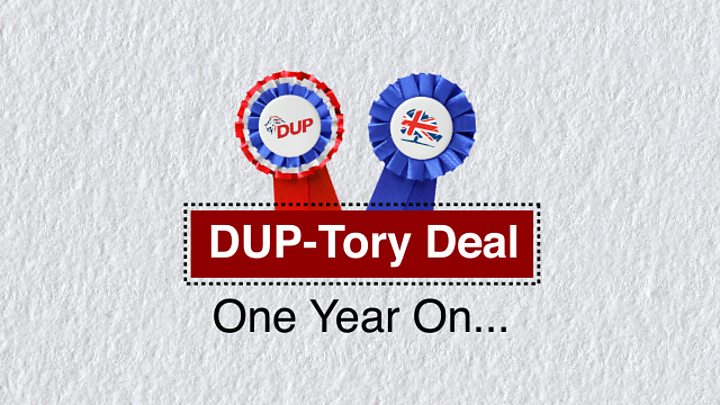 Last year's snap general election result saw the Democratic Unionist Party (DUP) thrust into the political spotlight like never before.
The party negotiated an extra £1bn in spending for Northern Ireland over two years in exchange for supporting Theresa May's minority Conservative government.
It was praised by some as proof that the DUP was delivering for people in Northern Ireland, but criticised by others who felt the Conservatives were "bribing" the DUP to keep themselves in power.
Exactly one year on, the effects of the deal aren't exactly being felt everywhere.
Head to north Belfast - where the DUP's Nigel Dodds has been the MP since 2001 - and there is a view that not much has changed in the past 12 months.
On a bright Thursday morning in June, at the Shankill Women's Centre, a group is taking part in a conflict resolution class.
Here, DUP and Sinn Féin supporters sit next to each other. Loyalists come face-to-face with republicans.
Women affected by the Troubles, a period of violence spanning more than three decades in Northern Ireland before a peace agreement was brokered in 1998, share their experiences.
Their views may differ drastically, but both sides agree that the last year in politics has been difficult for Northern Ireland.
Lilian is a unionist and has traditionally voted DUP.
She said, initially, news of the extra money for Northern Ireland was that it was "good thing", but that it had not become a reality.
"Some of it's meant to go into the health service, but our health service here in north Belfast seems to have gotten worse," she said.
"Money needs poured into centres like this all over. It's very frustrating if it's just sitting there waiting for someone to give the go-ahead."
'Triple lock'
Another woman, Loreen, takes a more optimistic view.
"It has only been a year - a year's not long really, they're doing what they promised and getting all the money at some point is better late than never," she said.
The DUP negotiated £1bn in extra spending for Northern Ireland over two years, with money allocated to go towards infrastructure, health, education, deprivation and ultra-fast broadband.
In the months following, there was concern that the money would only be able to be spent when Stormont was restored.
But in March, the government announced that £410m of the £1bn deal would be included in a new Stormont budget with money dished out to various areas.
Downing Street has said that so far £430m has been released. £20m in 2017/18 was given to health and education while the £410m allocated for the Stormont budget is currently going through parliamentary approval procedures.
The DUP MP, Emma Little-Pengelly, said her party stood by the agreement and what it had achieved for Northern Ireland.
"The funding was specifically sought for areas that would be of benefit to people, regardless of their political persuasion or where they live across the province," she said.
"It should not be forgotten that, as well as the financial package specifically for Northern Ireland, there are UK-wide benefits.
"Older people in Northern Ireland benefit from the move to maintain the pensions 'triple lock' just as they do across every region of the United Kingdom," she said.
She also pointed to investment in the health service to tackle waiting lists and emergency care and investment to "transform" broadband in many rural areas of Northern Ireland.
Back at the Shankill Women's Centre, community worker Eileen Weir said people in north Belfast have not felt any immediate benefits from the money the DUP secured.
"In the areas that need investment, broadband is the last thing on their mind," she said.
"I'm not saying it's wrong, but it's not an immediate priority in our area. We have families standing in queues for food banks - their priority isn't broadband. Who is delivering for us?
"It's great they were able to negotiate such a package, but if you're not hands on with the communities who need the money most, you might not make the right decisions for where the money needs to go."
On the other side of the table sits Tina, who is from west Belfast, and a Sinn Féin voter.
"We're all from working class areas and we're all feeling the pain of austerity," she said.
"In the long run, the money isn't going to solve the problems alone.
"The deal was a bad idea, the DUP are propping up people who brought austerity to Northern Ireland and will probably make more cuts."
'Same language'
I ask if Sinn Féin's seven MPs should give up their long-standing policy of abstentionism and take their seats in the House of Commons so that nationalists can have a voice at Westminster, but Tina says the focus should be on restoring Stormont.
"We're doing this conflict resolution class at the moment and it's tough. To get this far with the peace process must have been hard for the politicians.
"We have to give them credit but right now they're acting like spoiled children - they should get back to work."
Northern Ireland has been without a functioning government since power-sharing collapsed in January 2017. Several rounds of talks to restore the institutions have failed.
Eileen Weir feels the DUP-Tory deal hasn't done much to improve relations between the parties in Northern Ireland.
"We need the DUP and Sinn Féin back working in that big white house on the hill," she said.
"The people on the ground are talking the same language, it's just a pity that our politicians can't talk the same language."