Stormont: NI business groups issue plea to Karen Bradley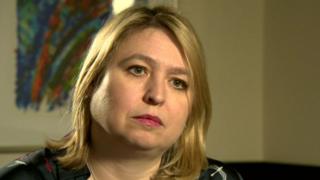 Civil servants should get more powers in the absence of Stormont, Northern Ireland's leading business groups have said in a letter to Karen Bradley.
They include the CBI NI, Manufacturing NI and Hospitality Ulster.
Power-sharing between the DUP and Sinn Féin collapsed in January 2017, leaving Northern Ireland without a government.
There has been confusion over who is in charge after a court overruled a planning decision taken by a senior Stormont civil servant.
The 12 business organisations said they want the secretary of state to put in place "special legislative measures" to allow senior civil servants to take important decisions.
They have put forward suggestions for Mrs Bradley to consider if the impasse between the political parties cannot be broken.
'Extra scrutiny'
They want legislation to be amended to allow Stormont's permanent secretaries to make decisions in the absence of ministers.
The assembly's statutory committees should be re-established to provide extra scrutiny, they added.
The groups also said there should be a focus on infrastructure planning decisions only, and that existing decision-making powers of the Planning Appeals Commission should be extended to incorporate 'regionally significant' planning applications.
Last month, the Institute of Directors warned that more than £1bn of infrastructure projects are at risk because of the stalemate at Stormont.
'Policy paralysis'
In their letter to the secretary of state, the business groups argue that their proposals are a temporary solution and would revert if power-sharing was restored.
They added that while there continues to be no assembly, something must change in order to avoid a "lengthy period of decision-making uncertainty".
Adrian Doran, chair of the CBI NI Infrastructure Forum, said Northern Ireland could not be left in "policy paralysis".
"The longer this uncertainty presides over local infrastructure decisions, the greater the risk to jobs and investment," he said.
"Northern Ireland cannot be left in a decision-making limbo indefinitely."
Ann McGregor, chief executive of Northern Ireland Chamber of Commerce and Industry, said the business community was "suffering intolerably" because of the deadlock.
"The proposals put forward by business groups today outline potential solutions that should be considered," she added.
"Too much time is being wasted and time is of the essence."
The secretary of state has previously said she is "aware of concerns" over what decisions departments can make in the absence of ministers.
In a statement, the government said: "The secretary of state's focus remains on redoubling efforts to restore a locally-elected, democratically accountable devolved government in Northern Ireland.
"The UK Government also has a responsibility to ensure good governance and the continued delivery of public services.
"The secretary of state will continue to keep available a range of options for supporting the process and encouraging the parties to achieve the positive outcome that we all deeply want, and reach agreement in the interests of all the people of Northern Ireland."