Lord Mayor of Belfast: 'I don't stay silent' on beliefs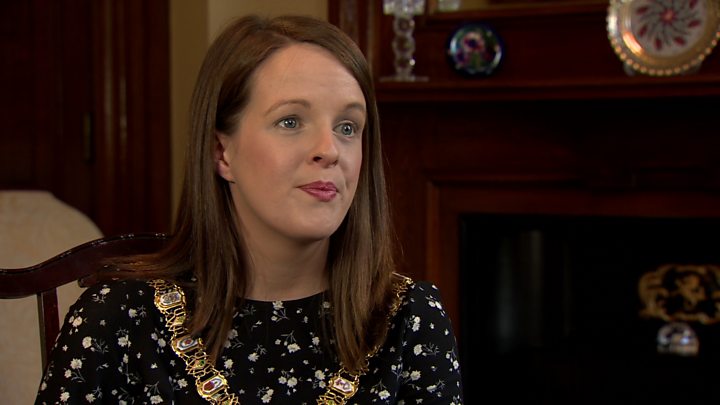 The Alliance Party's Nuala McAllister has defended being outspoken on abortion and same-sex marriage during her year as lord mayor of Belfast.
She said although she was supposed to remain "impartial to a degree" in the position, she has not "stayed silent" on those issues.
Ms McAllister's term as lord mayor ended on Monday.
The councillor said she hoped she would not be seen as divisive in how she had carried out the role.
Northern Ireland is the only part of the UK that does not allow same-sex marriage, or abortions to be carried out except in cases where a mother's life is at risk or if there is a risk of serious or permanent damage to her mental or physical health.
Ms McAllister is in favour of the law changing on both of those issues.
During a councillor's year as lord mayor, however, they usually take a step back from engaging in political issues as the office they hold is seen to represent the whole of the city.
'Views and beliefs'
Ms McAllister said she felt she had carried out the role fairly, but that she did not believe she should stay quiet on issues she felt strongly about.
"A lot of people will notice that I don't (stay silent) quite a lot of the time," she told BBC News NI.
"I'm an elected representative, I have views and beliefs.
"In this current climate, particularly when we discuss issues that are global - and we're discussing those issues because we don't have an assembly - I will put out my opinion.
"On abortion, it's so fundamental to me as a person, it's something I will simply not leave aside.
"Marriage equality is another one. I participated in the marriage equality rally, I would do it again tomorrow if I was lord mayor.
"I will do it every year and I'd like to think I would be on the right side of history."
Ms McAllister was among thousands of people who took part in the rally for same-sex marriage in Belfast on Saturday.
Asked if she could be viewed as not being inclusive of everyone in Belfast given her stance on those topics, Ms McAllister said she did not accept that.
"There is a necessity to show leadership and be strong," she added.
'Not offensive'
The 28 year old - who was first elected to Belfast City Council in 2014 - also caused a stir last November when she chose not to have anyone to say prayers at her installation dinner as lord mayor.
She was criticised at the time by a number of councillors and Church leaders, who said she should not have broken with tradition.
Ms McAllister, who is an atheist, said she stood by the move.
"I was not being offensive, I felt I wouldn't have been honest in myself," she said.
"I don't follow that spiritual aspect, and I feel I made the correct decision in standing up and saying 'it's okay to be different in Belfast'."
The lord mayor will leave office awaiting the outcome of an investigation into whether or not she broke the councillors' code of conduct in 2016 - for issuing leaflets criticising other parties on Belfast City Council which opposed the audio recording of planning committee meetings being made public.
A statement from the Local Government Commissioner for Standards said its investigation is in its "final stages".
The Alliance Party said it could not comment on a live investigation.
Ms McAllister is only the fourth woman to have served as lord mayor of Belfast and the first mother to fill the role.
She is pregnant with her second child and said she plans to "take a bit of a break" after her term ends.
She has unsuccessfully stood in assembly elections twice before, but believes there is still a chance for Alliance to take a seat in North Belfast in the future.
"If there was a functioning assembly I would stand for election again, my party know I want to stand," she said.
"I honestly believe North Belfast needs an Alliance representative in the assembly."