David Davis rejects Northern Ireland Affairs Committee invite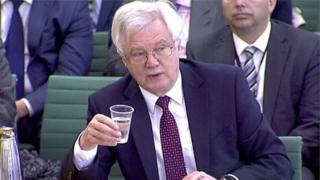 David Davis has declined an invitation to appear before the Northern Ireland Affairs Committee.
Mr Davis had been invited to give evidence as part of an investigation into the future of the Irish border post-Brexit.
The Brexit Secretary said he had already answered questions on Northern Ireland before the Exiting the European Union Committee and Lords EU Committee.
Committee chair Andrew Murrison said the committee was "most disappointed".
The EU and UK have not yet reached an agreement on the future of the Irish border during Brexit negotiations.
The government has suggested technology could be used to monitor the border after Brexit.
In his reply to the Northern Ireland Affairs Committee, Mr Davis suggested the committee speak to Robin Walker from the Department for Exiting the European Union and Shailesh Vara from the Northern Ireland Office.
The Northern Ireland Affairs Committee has already taken evidence from Mr Walker and Chloe Smith, Mr Vara's predecessor, in November 2017.
The committee's land border report, published in March, said the Government's plans for the Irish border after Brexit lacked an obvious technical solution and MPs did not believe that a frictionless post-Brexit border would be possible, from the evidence they had received.
The committee invited Mr Davis "to provide the government with an opportunity to update this view".
Mr Murrison said: "Michel Barnier has given us oral evidence as EU negotiator and the committee felt it would be reasonable to ask his UK counterpart, Mr Davis, to do the same.
"This is more urgent now as a technical solution to the border is one of two options cited by ministers.
"Given the committee's caution over the prospects for a technical solution in its original report on the Irish land border post-Brexit, we wanted to give the minister an opportunity to say what progress had been made.
"We would then be happy to update our report, if warranted by evidence received. Otherwise, clearly, we cannot and the opinion expressed in the original report will have to stand."