Bradley would consider proposals for shadow assembly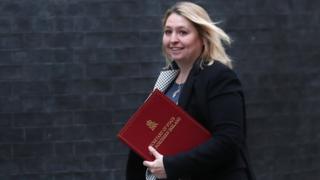 The Northern Ireland secretary of state has said that if Stormont parties asked for the creation of a shadow assembly, she would examine the proposal.
Karen Bradley was questioned about Sinn Féin's opposition to the idea on BBC Radio Ulster's Inside Politics.
She stressed that any way forward must have consent from the parties and cannot be imposed by the government.
She added that her job is to facilitate an agreement between the parties which they are all happy to work with.
Asked about the Irish government's request for a meeting of the British Irish Intergovernmental Conference, Mrs Bradley said she is looking at all the institutions and structures within the Good Friday Agreement to work out the right way to solve the current deadlock.
'No silver bullet'
The secretary of state denied her delay in responding to the Irish government's request is due to the DUP's opposition to convening the British Irish Intergovernmental Conference.
She said she is looking at all the issues and does not want to do anything which moves the situation backwards. Mrs Bradley argued that there is not "one silver bullet" and she is still assessing a number of options.
Earlier in the week, victims of historic institutional abuse won the right to a judicial review into the secretary of state and the Executive Office's failure to implement a scheme to provide financial compensation recommended by a judicial inquiry.
Mrs Bradley repeated her argument that Westminster coming in and taking over the recommendations of an inquiry set up by the Executive has "deep constitutional implications". However, she said she is looking very carefully at the legal case.
Asked why she cannot set up a financial compensation scheme for the victims, but can set a budget, a regional rate and extend a cost cap on the controversial Renewable Heating Scheme, Mrs Bradley insisted that on the other issues, she had been "very careful to stay within the confines of what the Executive has said previously".
The Secretary of State said that to legislate for an abuse compensation scheme, she would have to effectively suspend the Belfast Agreement and in the week of the 20th anniversary of the 1998 deal, the government should instead be concentrating on getting the devolved institutions back up and running.
Syria air strikes
On the potential for British participation in air strikes in Syria, Mrs Bradley declined to comment on the intelligence material shown to her and cabinet colleagues yesterday.
However, she said cabinet had agreed that the use of chemical weapons is not acceptable and is not something the UK can allow to continue.