Sinn Féin says it has Brexit NI impact papers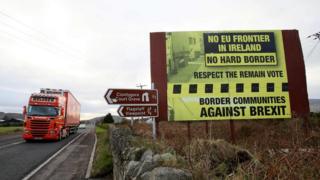 Sinn Féin has said it has received 27 papers produced by the Northern Ireland Civil Service on the impact of Brexit.
The party said they cover issues like market access, the customs union and single market and the availability of labour for sectors such as health, agri-food and manufacturing.
MEP Martina Anderson said the information had to be "dragged out of the civil service".
The Department of the Economy has already published some Brexit research.
It has released papers on the Common Travel Area and the impact of migration on the labour market.
Ms Anderson said the papers paint "a bleak picture and show that Brexit will have a hugely detrimental impact of these key sectors, jeopardising future growth and potentially creating a real crisis in our health service".
She told the BBC's Evening Extra programme the assessments suggested that the jobs of 10,000 healthcare workers in Northern Ireland who are from EU countries could be affected by Brexit.
"Ten thousand doctors and nurses and dentists and midwives and carers and the list as we know it - all of those are going to be affected as a consequence of [changes to] the free movement of people and goods and services, unless we secure designated special status for the north to remain within the EU."
Ms Anderson said she believed further civil service documents had been drawn up and she called for all assessments on the impact of Brexit to be made public.
Analysis published by the UK government in February suggested that the Northern Ireland economy would take a 12% hit if there is no Brexit deal.
The figures suggest that if a trade deal is agreed the Northern Ireland economy would take an 8% hit.
Even in a so-called soft Brexit, in which the UK still participates in the single market, a 2.5% hit is estimated.
The assessments do not mean the economy would shrink in absolute terms.
Instead, they look at how the economy would perform under each scenario over the next 15 years compared to current forecasts.
The documents, which have so far not been released, include working papers about border controls on goods and options for the land border.
There are also briefing papers for meetings with senior officials in Whitehall's Brexit department.