Would McGuinness have helped bring back Stormont?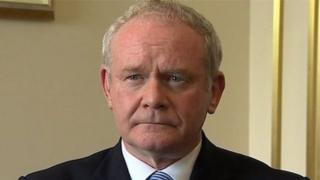 On the first anniversary of his death, are we any nearer to agreeing on the legacy of Martin McGuinness? Probably not.
Witness an exchange in the House of Commons this week between two unionists, the North Down MP Lady Sylvia Hermon and the DUP deputy leader Nigel Dodds.
Lady Hermon referred to the anniversary of his death and "the remarkable generosity of spirit" shown in government by Mr McGuinness and former DUP leader Ian Paisley and asked if the DUP could show the same generosity in getting back into talks about restoring devolution without any red lines.
Martin McGuinness' old nemesis, Gregory Campbell, reminded her that "he collapsed the institutions".
The devolved government collapsed in January 2017 after Martin McGuinness resigned as deputy first minister in protest against the handling of a flawed green energy scheme.
Subsequent talks have failed to restore the institutions.
Mr Dodds in reply referred to the anniversaries of the Warrington bombing and the murder of two army corporals at an IRA funeral.
"We should remember that in the eulogies to Martin McGuinness the movement he lead carried out those atrocities," he added.
'Need a unionist partner'
Michelle O'Neill, who became Sinn Féin's northern leader shortly before Mr McGuinness died, admits she found succeeding him to be "daunting".
She questions the response of unionists to the work of her former leader.
"Martin McGuinness led the way in reconciliation," she said.
"In order for reconciliation to be successful you need a unionist partner to work with in order to bring forward that excellent work.
"Martin stretched republicans time and again but he did it because it was the right thing to do.
"When I succeeded him one of the things he made (clear) to me was that you need a unionist partner if you're going to be able to make the Executive and the Good Friday Agreement institutions work and that remains the case today.
"I will carry on his good work because its necessary work if we're going to create a better society for all of our people to live side by side."
'Chuckle brothers' portraits
So, although he brought Stormont down, if he had lived, would the presence of Martin McGuinness have made it easier to bring it back?
I asked a man who saw both sides of the former Sinn Féin leader, the former police chief, Peter Sheridan, who believes that when he was stationed in Londonderry Martin McGuinness tried to have him killed on a number of occasions.
But in subsequent years, the years of the peace process, Peter Sheridan and Martin McGuinness formed a bond.
As chief executive of Co-Operation Ireland, Mr Sheridan was instrumental in bringing about that famous first handshake between Martin McGuinness and the Queen.
He hedges his bets on the Stormont question, saying: "I am not sure.
"He certainly had a personality that helped things over the first twenty years of the peace process.
"He certainly was a character who was able to bring people with him and if he'd been around the table over this last few weeks and months would he have made things different? Perhaps.
"We will never know though I guess his own party would say that he has set his stall out in January last year when he collapsed the institutions and that things would not have changed if things hadn't changed within the talks.
"But I think it's one of those conundrums that we will never know, but he certainly had a personality that could have made things different."
You couldn't make up the story of Martin McGuinness.
The young IRA commander who made peace with one of his greatest enemies, Ian Paisley.
Another thing the young Martin McGuinness would probably have laughed at was the fact that a portrait of him would one day hang in Stormont's Great Hall.
But that's what is about to happen.
Of course, a portrait of his fellow Chuckle Brother Ian Paisley is already there.