Disputed Stormont 'deal' pages leaked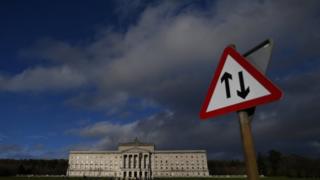 A leaked copy of the draft agreement being worked on by Northern Ireland's two main parties, before power sharing talks broke down, has been published.
The Democratic Unionist Party and Sinn Féin disagree on whether or not a deal was on the table before the latest round of talks collapsed last week.
Sinn Féin said it included an Irish language act, an Ulster Scots act, and respecting language and diversity act.
The DUP said the published papers did not "undermine anything" it had said.
Broadcaster Eamonn Mallie has published 13 pages of a draft document on his website.
He says: "On page 5 under the heading: Respecting Languages and Culture, there is specific reference to the Irish (Respecting Language and Diversity) Bill and the Ulster Scots (Respecting Language and Diversity) Bill and a Respecting Language and Diversity Bill.
"It has to be stated that square brackets obtain in this eight-line paragraph - meaning it had not yet been signed off and agreed."
Journalist Brian Rowan, who worked alongside Mr Mallie on the leaked document, told BBC NI's Spotlight programme that at no stage during the negotiations was there a "done deal".
However, he said he had seen correspondence between senior members of the DUP and Sinn Féin under the heading "draft agreement text".
There were "presentational" issues over the language bills, he suggested, with Sinn Féin viewing them as stand-alone acts but the DUP seeing them as a package.
'Matters still to be resolved'
Mr Rowan said these presentational issues were contained within square brackets within the draft document, as they were "matters still to be resolved... particularly around how they would be presented by the two parties".
"We were at the 59th minute of the 11th hour and someone panicked," he said.
"Someone took cold feet and this thing got unpicked."
The papers show that DUP leader Arlene Foster would have been first minister in the event of an agreement.
They also suggest that a longer time to resolve differences had been allocated in the eventuality that the executive would collapse again.
This would see an initial period of six weeks, and an additional period of 18 weeks for parties, in which parties could attempt to resolve future issues.
Therefore, avoiding the immediate dissolution of the assembly that happened when Martin McGuinness resigned as deputy first minister in January 2017.
Mr Rowan said the documents showed no signs of resolution over the issue of same-sex marriage.
What do the papers say? By BBC NI political editor Mark Devenport
Eamonn Mallie says the 13-page document he has obtained was sent by DUP negotiators to their Sinn Féin counterparts late on the night of Friday 9 February.
That's five days before the Stormont talks collapsed.
The paper says the two main priorities of any new executive would have been implementing health reforms and dealing with the impact of Brexit.
A section on language confirms plans for three separate bills, dealing with Irish, Ulster Scots and the importance of respect and tolerance.
Square brackets indicate some details may still have been under discussion, but there are clear plans for the creation of Irish and Ulster Scots commissioners, simultaneous translation for people speaking at the Assembly and a translation unit within the finance department.
The document says English would remain the language used in courts, but Irish and other languages could be facilitated when deemed necessary.
On same-sex marriage, the Mallie document says only that the parties hold different policy positions on the issue.
'Bad faith'
The DUP's Edwin Poots said the party would not be publishing any of the papers as "it would be an act of bad faith".
"If others wish to publish elements of the talks that's a matter for them," he said.
"Such a publication will not undermine anything that the DUP has said in public or private."
Direct rule
Sinn Féin and the DUP had been in negotiations to end the 13-month stalemate at Stormont.
The devolved government collapsed in a row over a botched green energy scheme.
After the latest talks collapsed on Wednesday, Sinn Féin leader Mary Lou McDonald said a deal had been in place the week before.
She said the DUP was warned to "close the deal before those opposed to it could unpick" it.
The DUP leader has said no draft agreement was in place.
Mrs Foster said the talks failed due to disagreements with Sinn Féin about legislation for the Irish language.
Mrs Foster has called on Northern Ireland Secretary Karen Bradley to set a budget and take key decisions about the region's schools, hospitals and infrastructure.
But in an update to MPs on Tuesday, Mrs Bradley declined to immediately re-impose direct rule from Westminster.
She also raised the prospect of another Assembly election.
Prime Minister Theresa May is due to meet the DUP and Sinn Féin leaders at the House of Commons on Wednesday.