Gerry Adams' prison escape appeal dismissed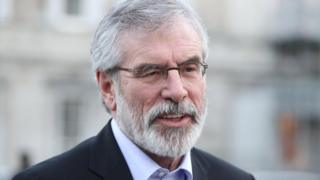 Gerry Adams has failed in his bid to have convictions for attempting to escape prison overturned.
The former Sinn Féin president was imprisoned at the Maze prison in the 1970s.
He was among hundreds of people held without trial during the early years of Northern Ireland's Troubles.
On Christmas Eve 1973, he was among four detainees stopped by wardens while allegedly trying to cut their way through the perimeter fencing.
All four made it through the wire and had been provided with clothing and money in a "well planned" escape bid when they were caught.
Mr Adams tried to escape again in July 1974 by switching with a kidnapped visitor who bore a "striking resemblance" to him, the court heard.
A man was taken from a bus stop in west Belfast to a house on the Falls Road where his hair was dyed and other changes were made to his appearance.
He was then driven to the prison where an attempt was made to substitute the man in place of Mr Adams.
Mr Adams was arrested in the staff car park and was subsequently sentenced to 18 months in jail for attempting to escape.
'Minister was appropriate person'
Mr Adams began his legal bid to overturn the two convictions in July 2017.
Lawyers acting for Mr Adams in the Court of Appeal in Belfast had argued that the order for his internment was legally flawed.
Their bid to overturn the convictions was based on government papers recovered from the National Archives in London.
They said that a junior minister had signed the necessary document in 1975, when it should have been the Northern Ireland secretary.
However, counsel for the Public Prosecution Service argued that a long-established legal doctrine allowed other ministerial figures to lawfully authorise Mr Adams' internment.
The appeal with Lord Chief Justice Sir Declan Morgan, Sir Reg Weir and Sir Ronald Weatherup.
Sir Robert said: "We are satisfied that the decision to make the ICO (Interim Custody Order) could have been made by an appropriate person on behalf of the secretary of state.
"We are satisfied that the minister was an appropriate person."
He added: "This court has been satisfied as to the validity of the ICO made by the minister on behalf of the secretary of state."