Brexit: Michel Barnier says part of border deal not fully agreed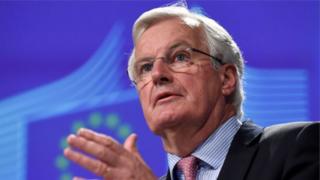 The EU's chief Brexit negotiator has suggested that the UK and EU have not yet fully agreed a key part of the December deal on the Irish border.
Michel Barnier was speaking to the Northern Ireland Affairs Committee at Westminster.
The UK said that even if there is no overarching Brexit deal it would continue to align with the EU rules.
The rules are necessary to support north-south cooperation, the all island economy and the Good Friday Agreement.
Mr Barnier told the committee: "We are working with British authorities on the content of that sentence."
He said there were "a large number of rules where this coherence or alignment" would be needed.
Last week, the Brexit Secretary David Davis told another House of Commons committee there were just three key areas where alignment would be needed, including agriculture.
'Table proposals'
Mr Barnier said that the UK and EU are currently working on "a very precise mapping exercise of all of these rules".
The UK government's preference is to tackle the border issue as part of a wider deal or else to have specific solutions for Northern Ireland.
Mr Barnier said the EU wants the UK to "table a number of proposals" with a view to avoiding a return to the hard border, adding they "should be forthcoming very soon".
He also said there was a need to find ways that ensure regulatory alignment in the long run, not just by means of administrative arrangements.
"It is not a question of saying at a certain point in time, 'okay, we have the same line here'.
"Both sides have to ensure that this continues, which means that, for the island of Ireland, in this specific situation, implementation and enforcement or oversight will require specific mechanisms."
Mr Barnier spoke to the committee in Brussels last week but a transcript of his remarks has just been published.