Stormont talks: Sinn Féin says no basis for them to resume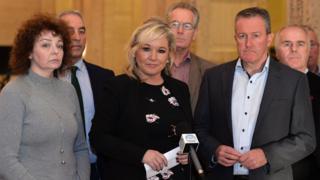 Sinn Féin has ruled out a return to power-sharing negotiations this week after a meeting with the Northern Ireland secretary.
The UK prime minister had called on Sinn Féin and the Democratic Unionist Party (DUP) to resume talks.
But Sinn Féin's Stormont leader Michelle O'Neill said there was "no basis" for that to happen.
The DUP's Simon Hamilton said it appeared that Sinn Féin had "checked out" of Stormont politics.
Talks between the DUP and Sinn Féin ground to a halt last month with Northern Ireland's two largest parties unable to break the deadlock at Stormont.
Northern Ireland has been without a devolved administration since January, when the power-sharing executive collapsed due to a bitter dispute between the parties.
They have failed to find a resolution in spite of several rounds of discussions.
Sinn Féin's demand for legislation to give official status to the Irish language is viewed as the main dividing issue.
Mrs O'Neill and her party met Northern Ireland Secretary James Brokenshire on Monday.
She said: "What we can't do is go round and round a hamster wheel in an endless talks process, which doesn't deliver an outcome.
"What we have to have is clear commitment on delivery of the rights-based issues, which are very reasonable and afforded to other citizens across these islands."
But Mr Hamilton said Northern Ireland "cannot go on indefinitely without ministers to take important decisions".
"Sinn Féin voters, as much as voters for any party, need a government up and running again to deal with issues in health, in housing, in education and in the economy," he said.
"If Sinn Féin are now opting out entirely, then we need to move fast to other options that allow the people of Northern Ireland to have the government they need."