Arlene Foster 'sorry' for Prince Harry and Meghan Markle wedding tweet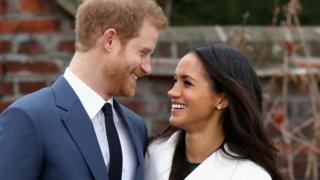 Democratic Unionist Party (DUP) leader Arlene Foster has apologised for congratulating the wrong prince after Prince Harry announced his engagement.
The prince said on Monday that he would marry his US actress fiancee Meghan Markle next spring.
But in a post on Mrs Foster's Twitter account, she mistakenly sent her best wishes to his already-married brother.
"Congratulations to HRH Prince William on his engagement to Megan (sic) Markle," she posted.
"Wonderful news this morning!"
The tweet was quickly deleted, with Mrs Foster correcting her error.
She later tweeted her apologies to the princes, joking that the mistake had ended her "chance of an invite".
She said the tweet had been sent by a member of her staff, who had been "guilty of tweeting too fast".