Ivor Bell 'unfit for trial' in Jean McConville case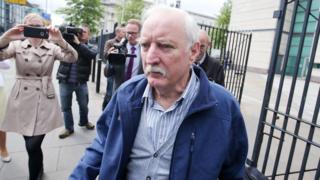 One of Northern Ireland's most senior judges has been asked to consider halting a trial into one of the most high-profile killings of the Troubles.
Mother-of-10 Jean McConville was abducted in front of her children in Belfast, before being murdered and secretly buried by the IRA in 1972.
Ivor Bell, who will be 81 next month, is facing charges linked to her murder.
The veteran republican's legal team made an appeal at Belfast Crown Court on Monday to stay the proceedings.
Bell, from Ramoan Gardens in west Belfast, has been charged with two counts of soliciting murder.
His barrister told a judge that Mr Bell has dementia that has left him unfit to stand trial.
'Complex and complicated'
The barrister said his client "cannot have a fair trial" and it would be "oppressive and unfair to seek to try him on the charges".
A trial would exacerbate Mr Bell's dementia, he added, and his mental state would render him unable to be cross-examined about an incident that happened 45 years ago.
The QC also told the court that a trial would be "complex, complicated and time consuming" and likely to result in an absolute discharge.
But a prosecutor said a trial of the facts is in the public interest and should go ahead.
A trial of the facts can determine whether or not there is truth in the allegations against a defendant, as opposed to their guilt or innocence.
With a defendant unable to put forward a defence, there can be no guilty verdict and a sentence cannot be passed.
The prosecution barrister said the case had been the subject of great public interest throughout Ireland and that "should not be ignored".
He added: "There is nothing that makes it impossible for Mr Bell to have a fair trial."
The judge gave prosecutors and the defence a week to made further written submissions and he reserved judgement until after he receives them.
Troubles history tapes
No-one has been convicted of the murder of Mrs McConville.
She was dragged from her home in a block of flats in west Belfast by an IRA gang after she was accused of passing information to the Army.
That claim was later discredited by the Northern Ireland Police Ombudsman.
She was shot and buried, becoming one of the Troubles' Disappeared, and her body was eventually discovered at a beach in the Republic of Ireland in 2003.
The case against Mr Bell is based on tapes from a Troubles history archive collated by a college in the United States.