Renewable Heat Incentive Inquiry day-by-day reports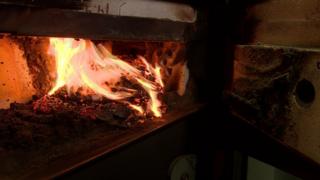 A public inquiry into the scandal surrounding the disastrous Renewable Heat Incentive (RHI) scheme is taking place at Stormont.
It is investigating how a harmless-looking green energy initiative led to the biggest political crisis in Northern Ireland for over a decade.
The RHI scheme offered financial incentives for businesses start using renewable fuels to generate heat.
But it was critically flawed, causing a vast overspend of public money.
Follow BBC News NI's full day-by day coverage by clicking on the links below.
Day one: Tuesday 7 November
Summary: RHI scheme 'struck at democracy's heart'
Detailed updates: Public inquiry into RHI scandal opens
Day two: Wednesday 8 November
Summary: Foster 'wanted RHI launched without delay'
Detailed updates: 'Scene set' for cash-for-ash inquiry
Day three: Thursday 9 November
Summary: DUP advisers 'stopped RHI decisions'
Detailed updates: DUP adviser emails laid out at RHI probe
Day four: Friday 10 November
Summary: 'Conspiracy of silence' around RHI scheme
Detailed updates: Department 'sorry' for cash-for-ash flaws
Day five: Tuesday 14 November
Summary: NI's need for own energy scheme questioned
Detailed updates: 'Cash-for-ash' probe told of RHI inception
Day six: Wednesday 15 November
Summary: Concerns over 'abuse' of UK energy scheme
Detailed updates: Inquiry examines 'cash-for-ash' origins
Day seven: Thursday 16 November
Summary: Foster to be quizzed over RHI assumptions
Detailed updates: Inquiry hears of birth of 'cash-for-ash
Day eight: Friday 17 November
Summary: Many knew RHI 'too good to be true'
Detailed updates: RHI scheme 'too good to be true'
Day nine: Tuesday 28 November
Summary: No evidence of 'senior hand' in RHI scheme
Detailed updates: 'Cash-for-ash' inquiry questions first witness
Day 10: Wednesday 29 November
Summary: Officials 'not told of RHI restrictions'
Detailed updates: Inquiry hears of 'cash-for-ash' funding
Day 11: Thursday 30 November
Summary: Advisers 'should have noticed RHI flaw'
Detailed updates: 'Cash-for-ash' adviser appears at inquiry
Day 12: Friday 1 December
Summary: RHI consultants 'reputation is at stake'
Detailed updates: Adviser quizzed on key 'cash-for-ash' error
Day 13: Tuesday 5 December
Summary: RHI official 'raised staff shortage risk'
Detailed updates: Key official faces inquiry over scheme role
Day 14: Wednesday 6 December
Summary: Budget experts 'didn't grasp' cash-for-ash finances
Detailed updates: Finance officials questioned on energy scheme
Day 15: Thursday 7 December
Summary: Foster not told of hike in RHI costs
Detailed updates: Department's energy boss quizzed at inquiry
Day 16: Friday 8 December
Summary: 'Opportunity missed' to close RHI loophole
Detailed updates: 'Cash-for-ash' official recalled to inquiry
Day 17: Monday 18 December
Summary: Foster 'should have been told RHI costs'
Detailed updates: Key scheme official faces more questions
Day 18: Tuesday 19 December
Summary: Missing RHI flaw 'doesn't look too clever'
Detailed updates: More questions for 'cash-for-ash' boss
Day 19: Wednesday 20 December
Summary: RHI scheme 'cost £300m more than alternative'
Detailed updates: DETI economist under 'cash-for-ash' scrutiny
Day 20: Thursday 21 December
Detailed updates: More evidence from RHI scheme economist
Day 21: Monday 8 January
Summary: Foster's RHI inquiry date brought forward
Detailed updates: 'Cash-for-ash' boss back in inquiry spotlight
Day 22: Tuesday 9 January
Summary: Cash-for-ash cost controls removed twice
Detailed updates: 'Cash-for-ash' probe examines scheme rules
Day 23: Wednesday 10 January
Summary: RHI scheme details 'withheld from MLAs'
Detailed updates: MLA 'angry' over 'cash-for-ash' failings
Day 24: Thursday 11 January
Summary: Lawyer warned of weaknesses in RHI scheme
Detailed updates: 'Cash-for-ash' legal advice 'ignored by DETI'
Day 25: Wednesday 24 January
Summary: RHI scheme communication 'dangerous'
Detailed updates: 'Fundamental dangers' of cash-for-ash communication
Day 26: Thursday 25 January
Summary: RHI economist says scheme was 'beyond' him
Detailed updates: RHI economist admits to inexperience
Day 27: Friday 26 January
Summary: Economist 'did not see RHI's false economy'
Detailed updates: 'Incredible time pressure' over RHI scheme
Day 28: Tuesday 30 January
Summary: Flaws mean cash-for-ash 'could happen again'
Detailed updates: 'Time pressure applied' over cash-for-ash scheme
Day 29: Wednesday 31 January
Summary: Civil servants 'furious' when scheme costs doubled
Detailed updates: Cash-for-ash boss 'furious' over cost rise
Day 30: Thursday 1 February
Summary: RHI tax issue 'should've gone to Europe'
Detailed updates: Cash-for-ash boss's order 'not normal'
Day 31: Friday 2 February
Summary: Official thought RHI had 'big red button'
Detailed updates: Cash-for-ash paper for Foster 'inaccurate'
Day 32: Tuesday 6 February
Summary: Foster letter subject of 'media speculation'
Detailed updates: Foster 'didn't write' cash-for-ash letter to banks
Day 33: Wednesday 7 February
Summary: Whistleblower 'doubted concerns would be investigated'
Detailed updates: Whistleblowers concerns 'not probed'
Day 34: Thursday 8 February
Summary: Civil servants 'want to spread blame'
Detailed updates: 'Feeding frenzy' as cash-for-ash closed
Day 35: Friday 9 February
Summary: Whistleblower 'would take same actions again'
Detailed updates: Whistleblower 'made out as liar'
Day 36: Tuesday 20 February
Summary: Dispute over RHI personal information
Detailed updates: Cash-for-ash makes 'official feel sick'
Day 37: Wednesday 21 February
Summary: Ministers 'should be more involved' in policy
Detailed updates: Officials warned of cash-for-ash risks
Day 38: Thursday 22 February
Summary: Foster and official disagree on meetings
Detailed updates: 'Evidence contrast' from Foster and RHI boss
Day 39: Friday 23 February
Summary: RHI scheme boss 'never saw lurid leaflets'
Detailed updates: Foster not told of missed cash-for-ash target
Day 40: Tuesday 27 February
Summary: Official 'did not enjoy' running scheme
Detailed updates: RHI civil servant 'caught in eye of storm'
Day 41: Wednesday 28 February
Summary: Scheme given go-ahead 'without enough resources'
Detailed updates: Foster and DETI 'chose not to prioritise RHI'
Day 42: Thursday 1 March
Summary: Civil servant 'didn't really understand what was going on'
Detailed updates: 'No-one monitored' for cash-for-ash risks
Day 43: Friday 2 March
Summary: Cost control delay 'is inexplicable'
Detailed updates: Cash-for-ash staff changes 'were incorrect'
Day 44: Tuesday 13 March
Summary: Minutes not taken 'to frustrate freedom of information'
Detailed updates: Civil service boss 'can't explain' cash-for-ash
Day 45: Wednesday 14 March
Summary: 'Two versions' of key meeting minutes
Detailed updates: Cash-for-ash meeting minutes 'watered down'
Day 46: Thursday 15 March
Summary: Paisley 'lobbied' administrator over RHI application
Detailed updates: Paisley 'lobbied' for cash-for-ash applicant
Day 47: Friday 16 March
Summary: Major poultry firm 'consulted' on cost controls
Detailed updates: Cash-for-ash oversight 'not like in GB'
Day 48: Tuesday 20 March
Summary: Sterling admits responsibility for failings
Detailed updates: Civil service boss admits cash-for-ash failures
Day 49: Wednesday 21 March
Summary: Paisley calls for apology over 'intimidating call' remark
Detailed updates: DUP MP demands apology from inquiry chair
Day 50: Thursday 22 March
Summary: Sterling defends Stormont department's record
Detailed updates: Cash-for-ash department 'serial money offender'
Day 51: Friday 23 March
Summary: Foster cost control assumption 'incorrect'
Detailed updates: 'No evidence' for claim against Foster
Day 52: Tuesday 10 April
Summary: RHI boiler 'earned £35k in one year'
Detailed updates: Cash-for-ash strategy 'risky' for farmers
Day 53: Wednesday 11 April
Summary: Adviser 'did not try to keep scheme open'
Detailed updates: Foster adviser 'didn't read key RHI report'
Day 54: Thursday 12 April
Summary: Foster 'bears no responsibility' for debacle
Detailed updates: 'Personal regret' for Foster over cash-for-ash
Day 55: Friday 13 April
Summary: Foster's cash-for-ash department 'dysfunctional'
Detailed updates: Wish I'd asked more questions, says Foster
Day 56: Monday 16 April
Summary: Foster 'wrote blank cheque' for scheme
Detailed updates: 'Officials misled Foster' on cash-for-ash
Day 57: Tuesday 17 April
Summary: Adviser 'did not intend to advantage cousin'
Detailed updates: Foster adviser leaked RHI papers to cousin
Day 58: Wednesday 18 April
Summary: Civil service boss's note-taking claim nonsense, says Foster
Detailed updates: Foster 'didn't write blank cheque' for RHI
Day 59: Thursday 19 April
Summary: Foster denies cash-for-ash was to benefit DUP voters
Detailed updates: Cash-for-ash whistleblower 'fed to wolves'
Day 60: Tuesday 8 May
Summary: Boiler applications 'more than double' estimate
Detailed updates: Moy Park told of key cash-for-ash changes
Day 61: Wednesday 9 May
Summary: Buck stops with me, says auditor
Detailed updates: 'Failures made' by cash-for-ash auditor
Day 62: Thursday 10 May
Detailed updates: 'Penny dropped' over cash-for-ash budget
Day 63: Friday 11 May
Summary: Ofgem 'allowed abuse of taxpayers' money'
Detailed updates: Public body 'participated in RHI cash waste'
Day 64: Tuesday 15 May
Summary: Cash-for-ash manager admits 'naivety'
Detailed updates: Moy Park cash-for-ash consultation 'naive'
Day 65: Wednesday 16 May
Summary: Inquiry hears of 'total divorce' between departments
Detailed updates: 'Total divorce' at Stormont over cash-for-ash
Day 66: Thursday 17 May
Summary: Boss 'did not read' RHI problems report
Detailed updates: Cash-for-ash team 'faced sea of risks'
Day 67: Friday 18 May
Summary: Officials not warned of boiler 'gaming'
Detailed updates: 'No interest' in making RHI value for money
Day 68: Wednesday 30 May
Summary: Foster 'did not halt cost control plans'
Detailed updates: Minister 'not told of RHI warning'
Day 69: Thursday 31 May
Summary: Foster adviser shared privileged legal letter
Detailed updates: Legal letter passed to ex-DUP leader Robinson's son
Day 70: Friday 1 June
Summary: 'Limited paper trail' between DUP advisers
Detailed updates: RHI minister had curry house confrontation
Day 71: Tuesday 5 June
Summary: Inquiry 'must decide if Foster showed candour'
Detailed updates: RHI minister Bell 'was a passenger'
Day 72: Wednesday 6 June
Summary: Manager 'unaware' of newspaper articles on RHI
Detailed updates: Cash-for-ash call from DUP adviser 'unusual'
Day 73: Thursday 7 June
Summary: Three RHI boilers were 'heating empty space'
Detailed updates: Only 1.5% of cash-for-ash boilers inspected
Day 74: Friday 8 June
Summary: Boiler installers 'urged customers to order quickly'
Detailed updates: 'Panic' as cash-for-ash crisis unfolded
Day 75: Tuesday 19 June
Summary: Moy Park told of RHI changes 'as courtesy'
Detailed updates: Cash-for-ash concerns 'played down'
Day 76: Wednesday 20 June
Summary: Plan to stop spike led to flood of applications
Detailed updates: RHI document 'didn't reflect reality'
Day 77: Thursday 21 June
Summary: Key meeting 'driven by unelected adviser, not minister'
Detailed updates: DUP adviser 'delayed cash-for-ash changes'
Day 78: Friday 22 June
Summary: Moy Park 'drove farmers to RHI scheme'
Detailed updates: Farmers 'tarred by cash-for-ash pub talk'
Day 79: Tuesday 26 June
Summary: RHI not 'fully understood' by finance officials
Detailed updates: Cash-for-ash assurances 'taken at face value'
Day 80: Wednesday 27 June
Summary: Officials 'treated as opposition' by DUP advisers
Detailed updates: DUP 'treated RHI officials as opposition'
Day 81: Thursday 28 June
Summary: 'Attempt to protect Foster' over RHI closure
Detailed updates: DUP 'had desire to pin RHI blame' on Bell
Day 82: Friday 29 June
Summary: Moy Park 'got indirect benefit' from scheme
Detailed updates: Poultry giant 'urged farmers to join RHI'
Day 83: Tuesday 4 September
Summary: Bell 'had dysfunctional relationship' with adviser
Detailed updates: Cash-for-ash 'baton dropped' by officials
Day 84: Wednesday 5 September
Summary: 'No resistance' from advisers to RHI on agenda
Detailed updates: Breakfast row 'caused RHI trust breakdown'
Day 85: Thursday 6 September
Summary: Bell a 'monster who had to be put to sleep'
Detailed updates: Bell 'victim of DUP smear campaign'
Day 86: Friday 7 September
Summary: Bell opposed RHI extension 'to protect public funds'
Detailed updates: Bell 'argued hard with Foster' to close RHI
Day 87: Tuesday 11 September
Summary: DUP advisers at odds over RHI delay
Detailed updates: Bell 'not suitable' for ministerial job
Day 88: Wednesday 12 September
Summary: Advisers' 'irreconcilable difference' over RHI
Detailed updates: DUP 'protected top adviser' over cash-for-ash
Day 89: Thursday 13 September
Summary: DUP 'pinned blame' for RHI on Crawford
Detailed updates: Foster's DUP adviser 'sore' over RHI blame
Day 90: Friday 14 September
Summary: Ex-DUP adviser 'cut poultry RHI reference'
Detailed updates: DUP adviser denies closure tip-off for Moy Park
Day 91: Thursday 20 September
Summary: Consultant 'raised RHI concerns' with Invest NI
Detailed updates: Energy expert spotted critical RHI flaws
Day 92: Friday 21 September
Summary: Invest NI 'missed opportunity' to raise RHI concerns
Detailed updates: Moy Park 'benefitted financially' from RHI scheme