Stormont deadlock: Need-to-know guide
By Iain McDowell
BBC News NI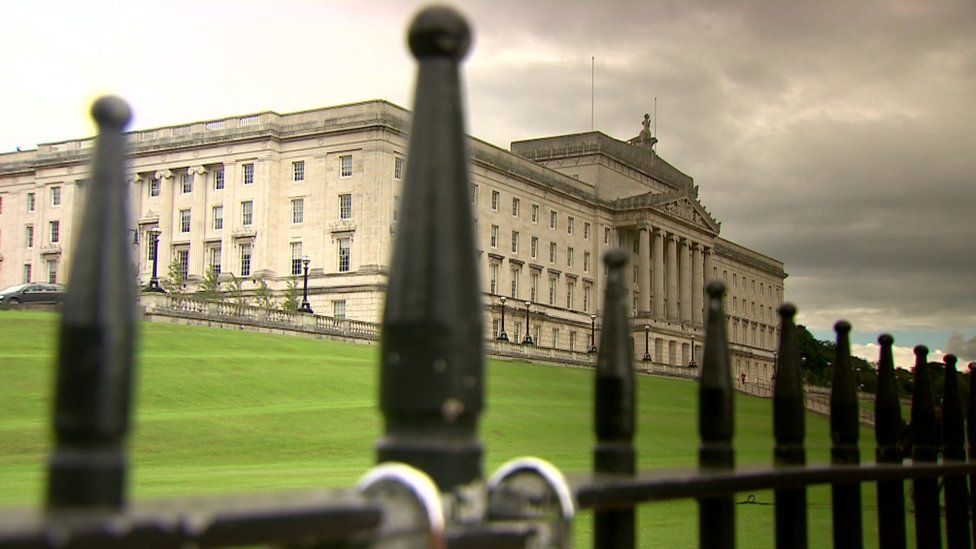 There have been a year's headlines about deadlines to restore power-sharing in Northern Ireland.
It has been without an executive since January 2017, when the governing parties - the DUP and Sinn Féin - split in a bitter row.
Northern Ireland's biggest political crisis for more than a decade has left Stormont in limbo.
The latest round of talks began at Stormont on 24 January.
Head of the NI Civil Service David Sterling has said there needs to be clarity about a budget by 8 February.
Northern Ireland Secretary Karen Bradley is to update the House of Commons on progress later this week.
So, what are the chances of settlement any time soon, and what will happen if the parties can only agree to disagree?
Why is this still rumbling on?
It has been a long year in Northern Ireland politics.
In a strange sort of way, a lot has changed while much has stayed the same.
The first of two elections saw Sinn Féin strengthen its hand in the Northern Ireland Assembly in March, while the DUP did the same in the House of Commons after June's Westminster poll.
But in spite of days, weeks and months of talks, the relationship between the two powerhouses has remained a cold one.
In November, when some informed onlookers were predicting that a deal between the two parties was close, the prospect was punctured again.
With the talks collapsing again, Mr Brokenshire moved to introduce a budget bill to keep money flowing into Northern Ireland's public services.
In December, an official review of MLAs' salaries recommended a 13% pay cut.
Talks resumed in late January, with Ms Bradley declaring that "time is short" but saying there was one last opportunity to restore the executive.
What do the parties stand divided on?
While some of the issues that led to the demise of the Stormont institutions appear to have been resolved, or at least lessened in significance for either party, the split remains as wide as ever on others.
The party has been frank and forthright in its insistence that Stormont won't get up and running again until a standalone act to allow that is agreed.
But its suggestion of a culture bill, encompassing legislation for Irish and Ulster Scots, falls short of what Sinn Féin wants.
Other issues, including rights for same-sex couples to marry and measures to deal with investigations into killings during the Troubles, also feature high on the talks agenda.
While all of this has been going on, who has been running Northern Ireland?
With no ministers in place at Stormont, civil servants have been making the day-to-day calls on running public services, but their hands are largely tied.
Major decisions - many involving hundreds of thousands or even millions of pounds of public money - need to be approved by an executive.
Take the reform of Northern Ireland's health service as one example.
With the system at breaking point, an ambitious plan was unveiled almost exactly 12 months ago.
But with no health minister and no executive in place, no changes can be implemented and the difficulties remain.
All a bit of a mess, isn't it?
That's one way of putting it.
Business leaders, public service workers, those relying on the health service and many others have voiced their frustration and anger about the situation at Stormont.
If power were to transfer to Westminster, the Conservative government would make the big decisions in areas such as health, education and justice.
The pressure has increased steadily on the DUP and Sinn Féin the longer their stalemate has gone on.
The question remains - is either side ready to make the compromises required to do a deal?