Emergency NI legislation 'could be debated on Monday'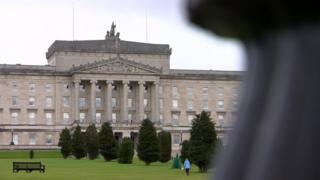 Emergency Westminster legislation to deal with Northern Ireland's political situation could be debated on Monday.
Legislation has been prepared for several scenarios, the BBC understands.
Those eventualities include a deal on restoring devolution and the need for Stormont's budget to be approved through an act in the House of Commons.
Commons leader Andrea Leadsom said she is "hopeful for some good news" that may "allow for legislation to recreate the Northern Ireland Executive".
She was explaining to MPs why it is sometimes impossible to give advance notice of matters for debate.
The Northern Ireland Executive collapsed in January and the most recent round of formal talks between the Democratic Unionist Party (DUP) and Sinn Féin ended in stalemate in June.
'Some progress made'
Northern Ireland Secretary James Brokenshire warned again on Thursday that greater Westminster intervention will be inevitable if a deal between the Stormont parties is not reached imminently.
That would be a step backwards, he told the annual conference of the Northern Ireland Local Government Association, but one that can still be avoided.
He later said that he hoped to be able to legislate to form a new executive "as soon as possible".
"To do so I would need to be satisfied that there is agreement between the parties," he added.
"Whilst this remains possible - and some progress has been made - clear differences still remain between the parties and agreement has yet to be found.
"If this cannot be resolved quickly I will need to legislate for a budget for Northern Ireland by the end of this month and consider next steps."
Talks between the parties in recent days have been "intensive", said Sinn Féin's Stormont leader Michelle O'Neill.
"There are still very real challenges to be addressed," she added.
The executive broke down over several issues in January, with the DUP and Sinn Féin since blaming each other for the failure to restore devolution.
Among the main sticking points in the talks is Sinn Féin's demand for legislation to give official status to the Irish language.