Brexit: UK and EU 'move heaven and earth' to protect NI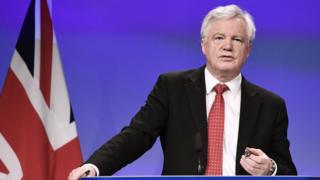 "Heaven and earth" will be moved by the UK and the EU to protect the Good Friday peace agreement, the Brexit secretary David Davis has said.
More talks are needed to "overcome the challenges of north-south cooperation" in Ireland after Brexit, he added.
He was speaking in Brussels after the fifth round of Brexit discussions with chief EU negotiator Michel Barnier.
Mr Barnier said there is no question "of making concessions" over the Northern Ireland peace process.
But he added that there has not been enough progress on the overall withdrawal discussions to allow them to move to the next stage.
Mr Davis said both sides wanted to "start working on common understanding on possible commitments" needed to "effectively protect the Good Friday Agreement".
"We are convinced that we can get a solution which retains and underpins the Good Friday/Belfast Agreement," he added.
"Both of us want to protect the peace agreement in Northern Ireland and we will move heaven and earth to do so - I think it's eminently possible."
Giving his assessment of the talks, Mr Barnier said some points had been clarified this week but there had not been "any great steps forward".
He also said that he will not be recommending to EU leaders at next week's summit in Brussels that the negotiations have made sufficient progress to move on to discussing future trading relationships with the UK.
The issue of a financial settlement with the UK at the talks this week had been deadlocked, he said.