Irish PM Varadkar 'resists Brexit hard border defeatism'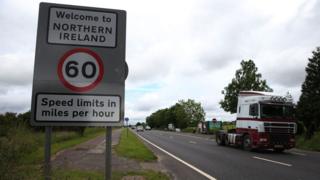 The Irish prime minister has said he is resisting "defeatism" that a so-called hard border is inevitable after Brexit.
Leo Varadkar was responding to a question about a leaked report from the Irish customs service.
It said border checks will be "unavoidable" when the UK leaves the customs union.
Irish Justice Minister and Equality Charles Flanagan, meanwhile, has said a "no-deal" Brexit scenario was "a very, very bad deal".
"It's important that all parties, the EU and the UK engage in a way that's positive and constructive," he said after talks with Home Secretary Amber Rudd, Justice Secretary David Liddington and Northern Ireland Secretary James Brokenshire.
Mr Flanagan described the discussions on Brexit, the Irish border and the ongoing situation in the Stormont assembly as "very positive".
But when asked whether sufficient progress had been made for the Brexit negotiations to move onto the next phase, he said that was a matter "entirely for the EU negotiators" which would be decided at the EU Council next week.
Mr Varadkar said "desktop studies" were being undertaken but the Republic of Ireland is not "scoping out truckstops" or hiring border guards.
Meanwhile, a group of academics have told a House of Commons committee that it will be difficult to avoid a hard customs border.
They were giving evidence to the Northern Ireland Affairs Committee.
'Ill-policed excise border'
Economist Paul McFlynn said that customs unions are "an all-or-nothing deal" designed to remove barriers between members but erect them with non-members.
He said he was "all for creative and imaginative solutions but not illusory ones".
Mr McFlynn told the committee there is "no way the EU is going to allow its customs frontier to be as ill-policed as the excise border between Northern Ireland the Republic".
Prime Minister Theresa May has said that both the UK and EU have "stated explicitly" that they will not accept any physical infrastructure at the border after Brexit.
Sylvia de Mars, an EU law specialist, said comments about no physical infrastructure at the border is "a bit misleading".
"We are going to have infrastructure, just not necessarily at the border," she added.
"There will have to be depots where things are checked to make sure products crossing the border meet EU regulatory standards."
'Incompatible red lines'
She said there is a misunderstanding about how flexible the EU can be because it is bound by existing trade commitments with other countries.
"The EU has obligations to the rest of the world by means of what it commits to via the World Trade Organisation."
However, she said the EU will make "reasonable compromises", particularly where there is a "big political history".
She cited an arrangement to ease trade across part of the Bosnia/Croatia border.
She said that the EU would respond to concrete proposals but "mostly what we have seen so far is bunch of significantly incompatible red lines".
Academic Katy Hayward, of Queen's University in Belfast, struck a more optimistic note, saying a special arrangement for Northern Ireland is possible.
"The EU, remarkably, is saying it's willing to accept this but it does require flexibility for the UK," she said.
That requires a "baseline" of a deep and comprehensive EU and UK trade agreement, she added, which can include something particular for Northern Ireland.