Former NIO minister Sir Richard Needham's direct rule warning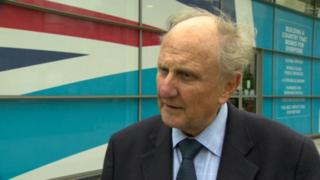 A former Northern Ireland Office (NIO) Minister has warned that if direct rule is introduced and new ministers are appointed by London they will "sit on their hands and do nothing".
Sir Richard Needham said ministers sent to Belfast would be "frightened of making decisions".
His comments come after the secretary of state warned that he would bring a budget to Westminster if devolution was not restored quickly.
The executive collapsed in January.
Sir Richard Needham, who retired as an MP in 1997, spoke to the BBC during the Conservative Party Conference on Monday.
He said he passionately wanted to see the Assembly and the executive restored in Northern Ireland.
"To not have devolution is bad for Northern Ireland. It is bad for services, bad for politics, bad for Britain and Ireland actually," he said.
He added that he feared what would happen across Northern Ireland if the government introduced direct rule.
"British ministers will do nothing, and they will do nothing because they will be frightened if they do something they will upset local politicians of one side or the other or both - therefore they will sit on their hands," he said.
"So decisions that should be made will not be made.
"So Northern Ireland and Belfast, which needs to do so much more to make it a smart city of the future, need decisions and need new policies.
"They are not going to do it under direct rule."
Sir Richard described the political stand-off between the DUP and Sinn Féin as "deadlock" and said he found the fact there had been no executive since January as "very sad".
There was also a warning at the conference from the Police Federation for Northern Ireland about the consequences of direct rule.
Its chairman, Mark Lindsay, said he fears that if direct rule is introduced it would be in place for some time.
He told the BBC: "I think history has shown that whenever we do have direct rule that it takes some time to move it back.
"The departments all have to change over to the Northern Ireland Office and it becomes very prolonged."
Asked if direct rule could last years rather than months he said: "I think it is more likely to be at least a year rather than months."
On Tuesday at the Conservative Party conference, DUP leader Arlene Foster and Sinn Féin's Stormont leader Michelle O'Neill will appear at the traditional Champ Ulster Fry event.
They will be joined by the Secretary of State James Brokenshire and Ulster Unionist leader Robin Swann.
Later in the day, Mrs Foster will be joined by DUP MPs when she hosts a reception at the conference centre.
It is the second year running that the party has hosted an event and comes just three months after the Conservatives and the DUP agreed a parliamentary deal at Westminster.