Green leader 'embarrassed' to be MLA due to Stormont crisis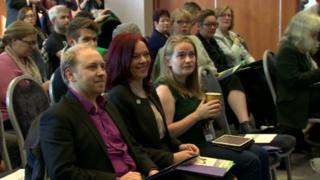 The leader of the Green Party in Northern Ireland has said he is embarrassed to be an MLA because of the failure to get Stormont working again.
Steven Agnew was speaking at the Greens' annual conference in Belfast on Saturday.
He said he was not optimistic about the Assembly being restored due to his belief that Sinn Fein has decided it is not in their interests.
The North Down MLA described the current situation as "frustrating".
"I'm in politics not just to win votes for the sake of it but to achieve change and it's hard to do that with no Assembly, but from a human point of view its become an embarrassment to be an MLA in the current situation," he said.
"I've been through many hard times for politics but I've never been as embarrassed as I am now to walk into a pub and people say 'why are you not at work?' and I can't give them a proper answer to that.
"It's my belief that Sinn Fein has decided its not in their interests to be in government and its not in their interests to have a working Assembly. I hope I'm wrong."
He added that he feared Northern Ireland may be entering "a prolonged period of direct rule."
Meanwhile the party's other MLA Clare Bailey has denied she is stepping down from the position of deputy leader because of a rift.
She told the BBC: "There's been a lot of rumour and speculation about why I'm stepping down as deputy leader but I think if you take a look around you, our party has grown in terms of membership substantially over, particularly, the past two years.
"I think we have such a wealth of talent and resources in terms of our membership. This has got nothing to do with internal party frictions. Quite the opposite.
"I want the party to expand. We have Steven and I both elected as MLAs and we can not be seen as a two person party when that's not really the case, so I want to develop the party," she said.
"I need the party to develop itself as well so I think we need to encourage our membership to come forward, to take on roles and to move the party forward."
Steven Agnew also denied there was a rift adding: "I can honestly say if I've got to go for a pint with anyone in our party I'd prefer it to be Clare Bailey."
The party said it was expecting a record turn-out at the conference.