SDLP and Fianna Fáil - can two become one in merger?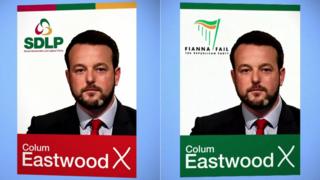 A former SDLP deputy leader has an "open mind" about an alliance with Fianna Fáil, but has warned his party not to "abandon its principles".
Seamus Mallon said his party should not be seen as a "soft touch".
The SDLP is involved in an "extensive internal engagement" about its future and the BBC understands that a merger with Fianna Fáil is back on the table.
"My mind is an open book, it has to be - if you have a closed book you have a closed mind," said Mr Mallon.
"Let's see where things go, let's see what happens."
But he questioned what an alliance with Fianna Fáil might look like.
"Would we leave the people who were with us from the word go, through all the violence, through almost 30-odd years?" he asked.
"Would we leave our own unique type of party policies to move into what?
"I don't know what an alliance means - do we go out of existence and become members of Fianna Fáil?
"I would look at it very, very carefully and I would make sure we weren't in a position where our party would be, as it were, abandoned by its leadership."
But the former deputy first minister added that every generation should be allowed to "write their own history".
'People turned off'
Former Fianna Fáil minister Dr Jim McDaid said a merger should happen "sooner rather than later".
He claimed that the move would help rebuild the "middle ground" and would give the Fianna Fáil leader Michael Martin a strong foothold north of the border.
Dr McDaid, a County Donegal-based GP, also rejected concerns over Fianna Fáil's recent track-record in government.
"Some people have suggested that a lot of mud would be thrown at Fianna Fáil because of the way things happened during the banking crisis," he said.
"I don't think that would be the case."
"I believe people of Northern Ireland have been turned off listening to what has been going on over the past 10 months.
"Will [the Democratic Unionist Party and Sinn Féin] meet, won't they meet; when are they going to set up the executive again?
"People are listening to that for the past 10 months and they deserve better."
But some Fianna Fáil members in Northern Ireland are opposed to any new alliance with the SDLP.
Martin McAlister, a former chair of the Fianna Fáil Armagh Forum, said: "The SDLP has been rejected by nationalism in the last Westminster election, so why would you want to be associated with that?
"You just can't use Fianna Fáil as some kind of lifeboat for them, that won't work.
"There are people in the SDLP who would fit seamlessly into Fianna Fáil but there are others who wont.
"I think it would probably cause the demise of the SDLP."
'Ethos and philosophy'
A union with Fianna Fáil has been raised before but it was knocked back by previous SDLP leaders.
In 2010, Margaret Ritchie told a Labour Party conference in the Republic of Ireland that there would be no merger with Fianna Fáil "on my watch".
But some within the party believe that Brexit is a "game-changer".
Former councillor Thomas Conway from Claudy in County Londonderry supported the move when it was first raised 15 years ago, but he said there is still resistance within the party.
"There is a certain element that thinks the good old days are going to come back again," he said.
"[They think:] 'Let's hang on in here, people are going to recognise the error of their ways; they are going to stop voting for other parties, stop voting for Sinn Féin; they are going to come back to us in their droves.'"
"That is not going to happen.
"The SDLP has to change root and branch from the bottom up to change its whole ethos and philosophy and it has to have new faces."
You can see more on The View on BBC One Northern Ireland at 22:40 BST on Thursday.