Gerry Adams: 'No assembly without Irish language act'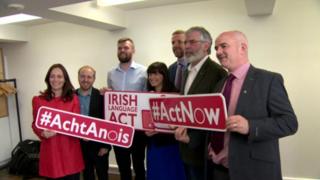 The Sinn Féin president has said there will not be an assembly without an Irish language act.
Gerry Adams was speaking as his party, the SDLP, Alliance, the Green Party, and People before Profit joined forces to call for an act.
UUP leader Robin Swann said his party would not "give a blank cheque to Gerry Adams for discrimination against non-Irish speakers".
The language issue has been a sticking point in talks to restore devolution.
Northern Ireland has been without a functioning devolved government since January, when the coalition, led by the two biggest parties, the DUP and Sinn Féin, collapsed over a green energy scandal.
Talks aimed at getting the power-sharing institutions up and running again ended earlier this year without agreement.
Mr Adams said society should respect everyone's rights.
"There won't be an assembly without an Acht na Gaeilge (Irish language act). The DUP know that, the two governments know that.
"This right which has been denied people here, is available everywhere else on these islands," he said.
Ciarán Mac Giolla Bhéin of Irish language group Conradh na Gaeilge, which brought together the party representatives, said people would be reluctant to go back into an assembly without the question of new legislation being resolved.
"We've had 10 years of continuous power sharing and zero progress has been made on this," he said.
The SDLP's Nichola Mallon said there was cross-party support for an act and that it was a critical issue for the restoration of devolution.
Her comments were echoed by Green Party leader Steven Agnew.
"This isn't, as perceived, a demand of one party. It's an issue that is of importance to many across Northern Ireland," he said.
However, Mr Swann said equality and respect needed to be shown to all communities.
"No matter how many times he (Gerry Adams) says otherwise, obligations to the Irish Language made under the Belfast Agreement have been fulfilled," said Mr Swann.
"We never made any commitments to an Irish Language Act. If Gerry Adams believes that others have made commitments in subsequent agreements, then he should take that up with them.
"The Irish Language should be de-politicised so, unlike other parties, we will certainly not be giving Gerry Adams a blank cheque for discrimination against non-Irish speakers, bi-lingual signage on every street and road sign in Northern Ireland nor power for an Irish Language commissioner to prosecute those who don`t comply with a Sinn Féin diktat."