Brexit: Davis wants 'most effective possible' open market in Ireland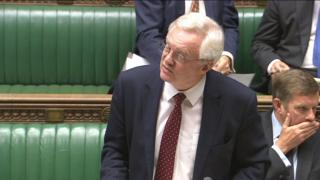 Brexit Secretary David Davis has said he is committed to maintaining the "most effective possible open market" across Ireland after the UK leaves the EU.
He was speaking during questions to MPs in the House of Commons on Thursday.
Mr Davis made comments in response to a question from the SDLP MP, Margaret Ritchie.
She asked Mr Davis to "commit to exploring ways" to keep Northern Ireland in the single market.
Mrs Ritchie said: "Given the importance of the single market to the all-island economy in Ireland, will the Secretary of State commit to exploring ways in which Northern Ireland can remain in the single market in the eventuality that Britain leaves, because of the importance of that market to our business?"
In response, Mr Davis said the government was committed to maintaining "the most effective possible open market we can achieve" on both sides of the border.
"I've already committed to extensive work to ensure we keep an open border and maintain the Common Travel Area," added Mr Davis.
On Monday, the first and deputy first ministers will attend a meeting of the joint ministerial council in London, chaired by Prime Minister Theresa May, to discuss the ramifications of the Brexit vote in June.