Martin McGuinness 'does not trust' NI Secretary of State on Brexit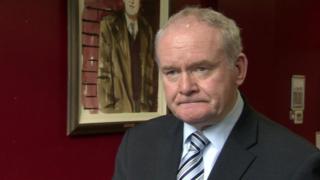 Martin McGuinness has told the BBC he does not trust the secretary of state to negotiate on Northern Ireland's behalf on Brexit.
On Wednesday, James Brokenshire said he would be able to advocate for Northern Ireland, even though he is not a core member of the cabinet's Brexit Committee.
But, the deputy first minister said he has no faith in the cabinet to deliver.
"I don't trust this British government to negotiate on our behalf," he said.
"I do not trust this cabinet to treat as a priority the many grave issues of concern we have, as a result of a decision taken by the Conservative party to plunge us into this crisis," added the deputy first minister.
'Mess'
He said both he and the First Minister Arlene Foster have "made it clear" that they want to be involved at the heart of the negotiations.
"I don't believe this government has the best interest of the people of the north of Ireland at heart because these were the same players who brought us to the disaster that was Brexit," he told the BBC.
"These are the people that as a result of in-fighting within the Tory party brought us to a point where we are now dealing with the mess they have created.
"So do I have confidence in these people to deliver for the north of Ireland? Absolutely not."
Mr McGuinness and Arlene Foster are due to go to London next week for talks on Brexit with Prime Minister Theresa May and other officials.
Speaking on the BBC's Good Morning Ulster programme, Mr Brokenshire said: "I am allowed to attend meetings of this committee where there are Northern Ireland related issues being discussed.
"I am confident that I am able to represent Northern Ireland's views and perspective in the Brexit negotiations."
He said his voice would be heard "loud and clear".
'Slap in the face'
However the SDLP leader, Colum Eastwood, has accused the Prime Minister of "relegating" Mr Brokenshire to a "part time member of the Brexit cabinet,"
"It is a slap in the face to the people of Northern Ireland and Scotland who voted to remain in the EU," Mr Eastwood added.
"Theresa May's 'Brexit war cabinet' is more about plastering over the cracks in her own party, than negotiating a deal which is acceptable to the devolved governments."