Brexit vote puts 'border at risk' says NI shadow secretary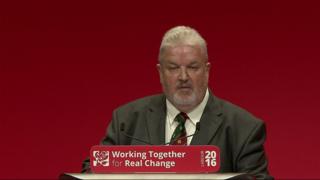 The shadow Northern Ireland secretary has said the vote to leave the European Union has put the border at risk, severely damaged the economy and gives sustenance to those who want to break up the UK.
Dave Anderson made his comments at the Labour Party conference in Liverpool.
In his first address as shadow NI secretary, he said: "The whole of the peace process has been hugely underpinned by the European Union in a multitude of ways - most of which the Tories seem completely oblivious of.
"Make no mistake Cameron's Northern Ireland secretaries, both of whom pushed hard for Brexit were hard right ideologues and their dogmatic attitude have put the border at risk, severely damaged the economy of our closest and oldest neighbour and partner in peace and given sustenance to those determined to break the UK apart."
The Labour MP added: "The most obvious issue is whether or not we have to see the building of check points and passport controls on the border but at least as difficult and much harder to quantify are the day-to-day issues that will effect Irish people across both sides of the border as they try to come to grips with a new reality."
The Labour conference began on Sunday and will end with the leaders speech on Wednesday.
Although the UK voted to leave the European Union, 56% of people in Northern Ireland voted to remain.