Lord Maginnis: Goods to be seized and sold to cover unpaid fine, judge rules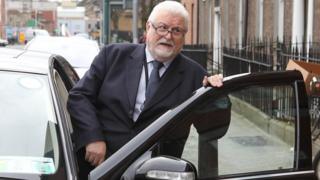 Goods belonging to the former Ulster Unionist politician Lord Maginnis are to be seized and sold to cover a fine he refuses to pay, a judge has ruled.
The County Tyrone peer was convicted of boarding a train without a valid ticket in London on 5 March 2014.
He was ordered to pay almost £1,500, consisting of a fine of £220 and costs of £1,239, but he has yet to pay it.
At Dungannon Magistrates Court on Friday, Lord Maginnis said he was being "rubbished in terms of an 80p mistake".
Lord Maginnis, from Park Lane in Dungannon, represented himself in court and took up position in the benches usually reserved for the prosecution team.
He was told by the judge that he could enter into a repayment plan to pay the outstanding fine and costs, but the 78-year-old rejected that option.
Philosophical
The judge described the case as "an unhappy situation," and issued a warrant for the recovery of goods to the value of the outstanding amount to be seized from the peer.
Lord Maginnis asked: "Does this mean, in fact, justice is denied?"
The judge replied: "That's a philosophical issue and one I am not qualified to comment upon."
The case had initially been before magistrates in London and through a failed appeal at a crown court.
It was then transferred to the Dungannon court after the fine remained unpaid.
Resent
Lord Maginnis said: "I was summonsed in London on two occasions and turned up both times - it was cancelled both times.
"On the third occasion, I did not appear and they went ahead without me.
"I've been rubbished in terms of an 80p mistake, I resent that old age is treated [in such a way].
"This is not only personal - it's a general issue.
"It has already cost me £3,200 in legal fees to ascertain why the court went ahead in my absence."
Lord Maginnis also told the judge he was under time pressure, saying: "I have a hospital appointment this morning - I am waiting on the NHS to give me a new hip."