Brexit: NI Affairs Committee to begin inquiry on Irish border future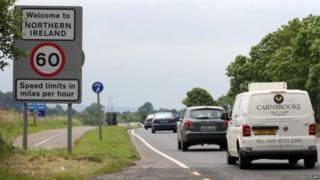 Westminster's Northern Ireland Affairs Committee is to hold an inquiry into the future of the Irish border after Brexit.
Prime Minister Theresa May has said repeatedly she does not want to "see a return to the borders of the past".
However, there is still uncertainty about how the border will operate when the UK leaves the EU.
It is still unclear if the border will become a customs frontier or if the Common Travel Area will be maintained.
The Common Travel Area is an arrangement that means there are no passport controls in operation for Irish and UK citizens travelling between the two countries.
Desire
The committee will ask what options there there are for maintaining the existing Common Travel Area arrangements.
It will also look at the options for the border if the UK is not part of the EU customs union.
Conservative MP Laurence Robertson, the chair of the Northern Ireland Affairs Committee, said: "There is a desire on all sides to maintain the existing open border with the Republic.
"Our inquiry will assess the different options open to the government that will achieve that objective, with the aim of producing recommendations and conclusions ahead of the start of formal negotiations between the UK and the EU."