Brexit: UUP sets out its future vision for NI outside EU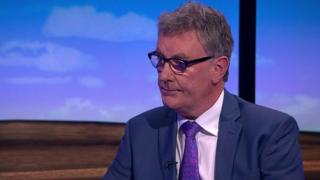 The Ulster Unionist Party has said the whole of Northern Ireland should become an enterprise zone and spending on infrastructure needs to be trebled.
The ideas are part of a 10-point plan setting out its vision for Northern Ireland outside the European Union.
The party also says a "Brexit war room" should be established by the executive to ensure Stormont departments are working together following the EU vote.
It also want to see greater emphasis on education and a new peace centre.
The centre would be established at the site of the former Crumlin Road courthouse.
Mike Nesbitt's party campaigned to stay in the European Union but the UUP leader said the days of being a 'brexiteer' or a 'remainer' were now over.
He claimed that after the vote to leave the EU, it is clear Northern Ireland is the most affected part of the UK and the least prepared.
Financial guarantees
The UUP published its 10-point plan on Monday with the aim that no-one in Northern Ireland will be worse off once the UK leaves the EU.
The Ulster Unionists want infrastructure investment to be trebled and they want Northern Ireland to be designated as an enterprise zone.
The party also wants financial guarantees for those losing EU money.
They want safeguards for the Common Travel Area and insist there should not be a hard border at airports and ports in Great Britain.
The majority in Northern Ireland voted to remain in the EU Referendum in June, although the UK as a whole voted by a narrow margin to leave the EU.