Stormont parties raise almost £200k more in 2015 than previous year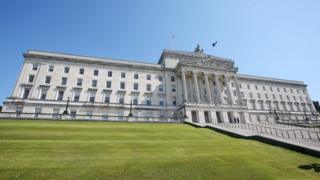 Northern Ireland's four largest political parties received almost £200,000 more in income last year than they did in 2014, new figures show.
Accounts published by the Electoral Commission, the government-appointed watchdog, show that Sinn Féin had the most income in 2015, with £1,162,851.
But that was down slightly on its 2014 income in Northern Ireland.
The Democratic Unionist Party (DUP) raised £533,682 in 2015, up from £482,370 the previous year.
Contrast
Sinn Féin reported having spent more than £50,000 over the amount it raised in the region.
The Social Democratic and Labour Party (SDLP) saw its income increase by more than £100,000, from £440,344 in 2014 to £543,704 in 2015.
But, like Sinn Féin, the SDLP spent more than £50,000 over what it raised in 2015.
In contrast to the nationalist parties, the DUP's expenditure was nearly £22,000 less than the its income.
Donations
The Ulster Unionist Party (UUP) raised £412,805 in 2015, well up from £342,642 in 2014.
UUP expenditure was more than £100,000 less than their income.
The period reported on by the parties covered the 2015 Westminster election.
The parties accrued their income from a mixture of official grants, membership subscriptions and financial donations.
Details of any large donors have to be notified to the Electoral Commission, but, in contrast to the rest of the UK, are not made public due to security concerns.