Theresa Villiers: Decision expected on NI secretary's future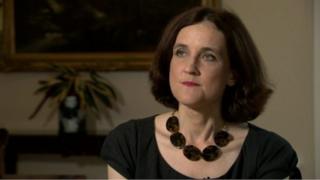 Secretary of State Theresa Villiers is expected to find out later whether she will keep her job as new Prime Minister Theresa May chooses her cabinet.
Earlier this week Ms Villiers said she would love to stay in her current post.
The Conservative MP for Chipping Barnet was appointed as secretary of state for Northern Ireland in September 2012.
She supported Mrs May's rival, Andrea Leadsom, in the race to become leader of the Conservative party, before her preferred candidate pulled out.
Ms Villiers was also a prominent Brexit campaigner during last month's referendum, when the UK voted to leave the European Union.
Mrs May campaigned for a Remain vote but has promised to implement the will of the electorate and make a "success" of Brexit.
In her first day as prime minister on Wednesday, she appointed a number of high-profile Brexiteers to senior cabinet positions.
They include leading Leave campaigner Boris Johnson who is the new foreign secretary and veteran Eurosceptic David Davis, who has been given the new cabinet position of secretary of state for exiting the European Union - or "Brexit secretary".