Billy Wright banner in Dungannon is investigated by police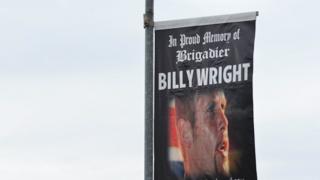 Police are investigating after a banner paying tribute to the former head of the Loyalist Volunteer Force (LVF) Billy Wright was hung from a street light in Dungannon, County Tyrone.
The sign at Eastvale Avenue shows Wright's picture with the words: "In proud memory of Brigadier Billy Wright'
It also features a quotation attributed to him.
SDLP MLA Patsy McGlone said he was "shocked" by the banner and considered it "vile".
Wright was shot dead inside the Maze prison by republicans in 1997.
An inquiry in 2010 found his murder was the result of serious failings by the prison service, not state collusion.
When asked about the banner on Thursday, police said they were aware of it and enquiries were "ongoing".
The LVF earned a reputation for brutal violence primarily towards Catholics in Northern Ireland after it was set up as a breakaway wing of the Ulster Volunteer Force.
The banner includes a quote attributed to Wright referring to the murder of four men in Cappagh, County Tyrone by the UVF.
Wright was alleged to have been involved in the murders and reported to have said that: "I would look back and say Cappagh was probably our best."
Mr McGlone said the quotation on the banner was "extolling the virtues of mass murder".
"It is something that I have reported to the police so they can take action because I consider whoever printed this is guilty of a vile sort of sectarian hate crime," he said.
"It should be removed and responsible leaders within the community should do everything to remove it."