Brexit: Simon Hamilton says UK's withdrawal will be managed process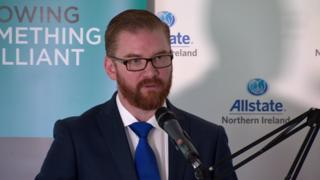 The Economy Minister Simon Hamilton has said the UK's withdrawal from the EU will be a managed process and that there will be "no crash landing".
In his first major speech as minister, he made the comments at a NI Chamber of Commerce business breakfast.
The minister also announced he had asked his officials to examine Northern Ireland's competitiveness against a number of other countries.
These include Singapore, New Zealand, Finland and the Republic of Ireland.
Northern Ireland voted to remain in the EU, but the UK as a whole backed Leave.
On the decision to leave the European Union, Mr Hamilton told the audience: "A lot is still to be decided. Most likely it seems over a period of time. There will be no crash landing.
"It will be a managed process. Yes there is much to do . But it will be done and it will be carefully managed."
'Questions'
The economy minister accepted that the referendum result had created much uncertainty.
He told more than 100 guests from the business community at the Allstate offices in Belfast: "I know many of you are worried, that you have lots of questions and there are not at this stage many answers."
The DUP minister refused to reveal how he had voted in the referendum last month.
Asked if he had voted to leave the EU, he told the BBC: "I don't want to go back over all of what people said or did.
"The reality of the result is what the result is and we need to deal with the consequences of that referendum result."
Mr Hamilton said the executive would continue to attract more businesses into Northern Ireland and he said there would be "more investments in the days and weeks to come".
He told the audience that he wanted Northern Ireland to "become a breakout nation".
"A truly emerging economy on the world stage. The very model of a modern regional economy," he said.