NI Executive: SDLP will hold 'government to account' says Colum Eastwood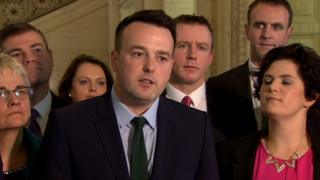 The SDLP leader Colum Eastwood has said his party is determined to hold the "government to account".
It follows the SDLP's decision to join the Ulster Unionist Party in entering into opposition at Stormont.
Mr Eastwood said the party had "not taken the decision lightly" and the party would not be in "opposition for opposition's sake".
"This is a very important day not just for the SDLP, but for politics generally," he said.
"We didn't take the decision lightly.
'Disappointed'
"We know that nationalism spent decades in opposition and it's not a place that we go to easily but we also know that it's time for a change in our politics."
On Thursday, the first minister and deputy first minister accused the SDLP of being "dishonest" during Stormont's programme for government negotiations.
It followed Mr Eastwood saying he was "very disappointed" over the talks.
Referring to the programme for government negotiations, Mr Eastwood said: "We tried our best to put in policy papers across a broad spectrum to try and achieve that type of action-based programme for government but it just became clear that the DUP and Sinn Féin didn't want to do that."
The SDLP leader said going into opposition, the party would work with "whoever wants to work with us".
"I think it is important though that those parties who aren't in the executive work together to try and show that we can be an alternative to the two main parties," he added.