NI Assembly: Alliance sets out key issues to accept justice ministry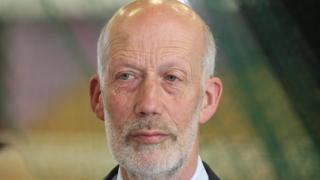 The Alliance Party has given a document to the DUP and Sinn Féin setting out its key issues before it decides whether to accept the justice ministry.
Party leader David Ford said it should not be taken for granted that Alliance will again take the justice department.
The party's ruling council is set to meet on Thursday evening to discuss whether it should participate in the next power-sharing coalition.
Alliance politicians will not clarify exactly what demands they have made.
However, they have said their main areas of concern were set out in their election manifesto.
The manifesto called for "five quick steps" to move Northern Ireland forward, summarised as building an integrated society, funding services, not division, cleaning up politics, investing in jobs, skills and the economy and ending all forms of paramilitarism.
"We need to see an executive which overcomes the difficulties it has experienced in the past, which deals with the financial and social problems in our society, which progresses towards a united community and which meets the needs of everyone here," Mr Ford said.
"That's what we will be basing a decision on."
The DUP, Sinn Féin, the SDLP and the Alliance Party met on Tuesday to discuss a draft document on Stormont's programme for government.
However, the SDLP and Alliance have yet to decide if they will join the Northern Ireland Executive.
The Ulster Unionists said last week they would not be taking a department.
Earlier, the former deputy leader of the Alliance Party, Seamus Close, said it would be a "fundamental error" for the party to take the justice ministry.
Speaking on Radio Ulster's Stephen Nolan Show, Mr Close said neither the DUP nor Sinn Féin trust each other to take the justice ministry.
"[What the two main parties are saying is] It's not us to blame, it's those silly people in Alliance, the SDLP or the UUP, who have the audacity to not sit down along with us," he said.
"But yet, they do not trust one another to take the department of justice, it is farcical.
"In many respects, it's telling the electorate: 'Do what we want - forget about what you say through your votes'."
Mr Ford has held the post of justice minister since policing and justice powers were devolved to Stormont in 2010.
Last month, he said he would not take on the role of justice minister without a commitment to reform.