Gerry Adams' N-word tweet 'test of Sinn Féin leadership' says DUP leader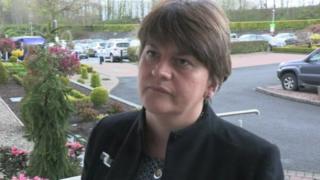 Gerry Adams' use of the 'N-word' in a tweet is a "massive test of leadership for Sinn Féin," according to the leader of the Democratic Unionist Party (DUP).
Mr Adams has apologised for using the term to compare the plight of US slaves to the treatment of Irish nationalists.
However, DUP leader Arlene Foster said his use of the word was "outrageous" and called his apology "half-hearted".
She said it was as big a test for Sinn Féin as that "facing the Labour Party in dealing with anti-semitism".
Mr Adams' initial tweet on Sunday night appeared to compare the experience of a character in the film Django Unchained to the treatment of nationalists in Ballymurphy in west Belfast.
The use of the word provoked an angry reaction on social media and was later deleted from Mr Adams' Twitter account.
The Sinn Féin leader has defended himself against accusation of racism.
He said his use of the 'N-word' was ironic and not intended to offend but he did admit his use of the N-word was "inappropriate".
In a statement on Tuesday, Mrs Foster said: "A half-hearted apology will not suffice. Gerry Adams' mask has slipped again.
"To compare slavery in America to the life of anyone in Northern Ireland is utterly ridiculous and offensive to those who suffered in slavery."