Gerry Adams N-word tweet 'an honest mistake', says Martin McGuinness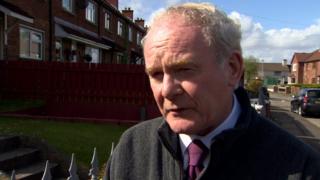 A tweet by Sinn Féin president Gerry Adams that contained the N-word was "an honest mistake", his party colleague Martin McGuinness has said.
Mr Adams apologised on Monday for his use of the term in a tweet comparing the plight of slaves in the United States to the treatment of Irish nationalists.
He said his use of the word was ironic and was not intended to be offensive.
Mr McGuinness told the BBC it was a term he would not have used himself.
"I do think it was an inappropriate way of trying to make what is a valid point in terms of his very strong stance over many years against injustice and against discrimination," he said.
Reaction
"No, I wouldn't have said it, certainly not.
"But Gerry's human, just like the rest of us - we all make mistakes."
The Sinn Féin leader's initial tweet appeared to compare the experience of a character in the film Django Unchained to the treatment of nationalists in Ballymurphy in west Belfast.
The Quentin Tarantino film is set before the American Civil War and focuses on racism, slavery, violence and murder.
The post on Mr Adams's Twitter account on Sunday night provoked an angry reaction on social media and was later deleted.
Aberration
Speaking on Monday, he said: "I have acknowledged that the use of the N-word was inappropriate. That is why I deleted the tweet.
"I apologise for any offence caused."
Mr McGuinness added that he had spoken with Mr Adams about the tweet and that the conversation "reflected the comments he's made [on Monday]".
"It was a mistake, it was inappropriate, so it was certainly wrong," said Mr McGuinness.
"But I think it was an honest mistake.
"Gerry Adams's credentials in standing up for people who have been treated unjustly, who have been marginalised, who have been discriminated against within society, clearly suggest to me that on this occasion this was an aberration.
"It was something that no doubt Gerry regrets and he's made it absolutely clear by apologising that he recognises that."
He added that he did not believe the tweet would damage Mr Adams or the party.
Delusional
Mr Adams's tweet was widely condemned by politicians in Northern Ireland.
The Democratic Unionist Party's Nelson McCausland described it as "indefensible".
Mike Nesbitt, the Ulster Unionist Party leader, said: "To liken the fight against slavery to what was happening in Northern Ireland in the 1960s is contemptible."
Social Democratic and Labour Party leader Colum Eastwood said the tweet showed "a staggering deficiency in judgement".
And Stewart Dickson of the Alliance Party, said the tweet indicated that Sinn Féin comparisons between Mr Adams and civil rights campaigner Rosa Parks were "delusional".