Northern Ireland politicians make tax affairs public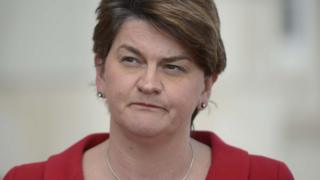 Some senior Northern Ireland politicians have published their tax returns amid calls for transparency over their personal finances.
First Minister Arlene Foster has released her tax return for 2014-15, showing she earned £78,200, and paid £20,500 in tax.
The move follows the release of Prime Minister David Cameron's tax records after the Panama Papers leak.
Deputy First Minister Martin McGuinness is also to publish his tax details.
A Sinn Féin spokesman said: "Martin McGuinness's assembly income is taxed at source under PAYE.
"He takes home an average wage and donates the balance to the party."
Ulster Unionist leader Mike Nesbitt has issued his tax return, revealing that he paid £10,600 of tax on £52,600 of income.
He said he had "no difficulty" publishing his tax details, adding that it had "become an issue of public concern and public interest" that political figures should be "open and transparent".
Colum Eastwood, the Social Democratic and Labour Party leader, said he "will gladly publish my very boring tax returns".
"I think everybody who is a senior politician in this country should do the same," he added.
"If we want to be leaders in society, we have to be up-front, transparent and move things forward."
David Ford, the leader of the Alliance Party, said his income was "derived solely from my work as an MLA and minister, plus a small amount of interest from a building society savings account, minus the interest I pay on the mortgage on a small family farm".
Green Party leader Steven Agnew has also published his tax calculation.