IRA victims: Foreign Office minister says compensation committee is 'welcome news'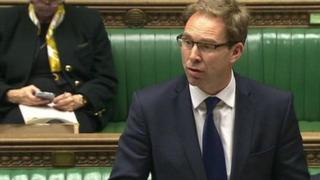 A Foreign Office minister has said the formation of a committee to study the case for IRA victims to be compensated is "welcome news".
Tobias Elwood was giving evidence to the Northern Ireland Affairs (NIA) Committee at Westminster
The NIA Committee is holding an inquiry into government efforts to get redress for Libyan-sponsored IRA violence.
Although supportive of the move, Mr Ellwood warned that progress was "unlikely to be rapid".
His comments were in reference to an interview in the Observer with the Libyan Deputy Prime Minister Ahmed Maiteeg who said a committee had been established to examine the issue.
'Too dangerous'
Mr Elwood pointed out that the Libyan government was facing significant challenges and added: "We would not want to raise expectations too early that any settlement in the victims' favour is likely in the immediacy".
The late Libyan leader Colonel Muammar Gaddafi supplied arms to the IRA during the Troubles and Libyan Semtex was a key weapon in the IRA's bombing campaign.
Mr Ellwood acknowledged that some victims wanted to travel to Libya to make their case, but said that the current Foreign Office advice said the country was too dangerous to visit.
But the minister said that as soon as that situation improved, he hoped to facilitate a delegation going to Tripoli.
Mr Ellwood also raised the possibility that the Libyan government committee could be invited to the UK to meet campaigners.
He told MPs: "That may be best way to expedite movement on this, rather than have travel limitations the other way delay progress."
Questioned by the Labour MP Kate Hoey, Mr Ellwood said he would not want to give a specific time as to when a compensation arrangement might be achieved.