SDLP's Colum Eastwood not concerned about party being squeezed in DUP and Sinn Féin battle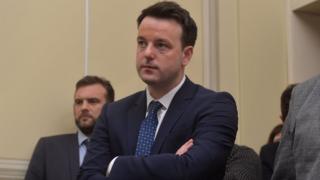 SDLP leader Colum Eastwood has said he is not concerned about his party being squeezed between the DUP and Sinn Féin as they battle to provide the next first minister.
Mr Eastwood was speaking at his party's annual conference in Londonderry.
He became leader four months ago.
With the next Northern Ireland Assembly election only two months away, Mr Eastwood said his party will not lose out as Arlene Foster and Martin McGuinness vie for Stormont's top job.
Under Stormont rules, the largest party of the largest designation - unionist or nationalist - provides the first minister.
But the positions of first minister and deputy first minister are effectively equal.
Power
DUP leader Arlene Foster said last week that a small swing in votes would hand the role to Mr McGuinness of Sinn Féin.
But Mr Eastwood said focusing on that contest cheapens politics.
"No one person has more power than the other," he said.
"So this nonsense that people want to put out there that it's a battle between Martin and Arlene about who is going to be the first minister, it undermines the fact that we want to move politics forward.
"We want politics to be about policy, about ideas and about delivery, not about whose nameplate is above which office."
Commitment
Mr Eastwood also said his party will not enter the next Stormont executive if the programme for government - which sets out the executive's actions and priorities for its next term - does not meet the needs of the people of Northern Ireland.
That move would put his party into an opposition role in the assembly.
"In the past, this party has stayed within the executive without signing up to a programme for government - that ends now," he said.
"We will only enter the executive if we can agree to a programme for government that actually meets the needs of the people in the north.
"That programme needs to include a commitment to distribute investment in jobs, infrastructure and education across all of Northern Ireland."
The SDLP's deputy leader Fearghal McKinney used his conference speech to attack what he called the failure of successive DUP ministers to tackle the problems in the health service.
He added that "stagnation at Stormont is no longer an option".