Michelle Gildernew 'delighted' be Sinn Féin candidate again after selection controversy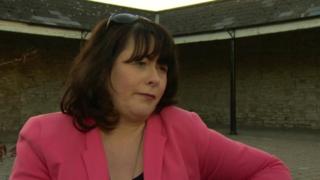 Former Sinn Féin MP Michelle Gildernew has spoken publicly for the first time about the controversy surrounding the selection of party candidates in Fermanagh and South Tyrone.
Last weekend, she was chosen to run in the Northern Ireland Assembly elections after she failed to get nominated at a previous selection meeting when three men were selected.
She will be Sinn Fein's fourth candidate in a constituency where they currently have three seats.
Speaking exclusively to the BBC programme The View, the former agriculture minister explained how she was initially selected at a convention meeting last December when sitting MLA Phil Flanagan failed to get nominated.
'Shocked'
That meeting was deemed invalid and when it reconvened in January of this year, Ms Gildernew failed to get nominated and Mr Flanagan was reinstated.
She told the BBC: "I was disappointed of course and I think people were shocked but that's the democratic decision of the party and I think a lot of people were surprised I lost out."
The ex-MP said she lost out because there are a "lot more Sinn Féin members in Fermanagh rather than Tyrone".
The second meeting last month resulted in the party selecting two sitting MLAs - Sean Lynch and Phil Flanagan - and local councillor John Feely.
Third meeting
Ms Gildernew says many party activists thought it was unacceptable that the party had chosen an all-male line up who came from the Fermanagh end of the constituency.
A third convention was held last weekend and she was added to the party's ticket which mean Sinn Féin will run four candidates in an area where they have three seats.
The former Stormont minister says it was right to re-run the first selection convention and insists everything was conducted properly.
She told The View: "Things were run impeccably. I think there was a disparity in the figures.
"I think someone had accidentally got two ballot papers or something but I can't fault it all, either in the December convention or the January convention."
'Strange process'
As expected, the Democratic Unionist Party (DUP) is running two candidates in the assembly election - its leader, Arlene Foster, and Lord Morrow.
The DUP leader said she was baffled by the way Sinn Féin had chosen their candidates.
"It was a rather strange selection process for Sinn Féin and they eventually got to the situation where Michelle was back in the race. It was an unedifying sight," Mrs Foster told The View.
At the last assembly election in 2011, Sinn Fein took three seats in Fermanagh and South Tyrone with the DUP taking two and the Ulster Unionist Party (UUP) secured one seat.
Sitting UUP MLA Alastair Patterson, who was co opted last January, says he is hopeful his party could take another seat.
"We have a very strong team of councillors in Fermangh and South Tyrone and we are looking to build on that. We are looking to try and return two Ulster Unionist candidates."
The Social Democratic and Labour Party (SDLP) has selected Richie McPhillips, who hopes to recapture the seat his party lost in 2011.
He said the SDLP is not worried about its political rivals, adding: "We are there to take the seat back irrespective of who is in the field."
'Evenly split'
The election in Fermanagh and South Tyrone is likely to centre on many issues including health care and education and the economy.
In her first parting shot of the campaign Ms Gildernew says Mrs Foster should have done more for the area when she was economy minister.
She said when the DUP MLA was in that role "very few jobs were actually brought to Fermanagh".
However, First Minister Arlene Foster dismissed that view, saying: "Of course we have brought jobs to Fermanagh."
She added: "I look forward to bringing more jobs in the future."
This constituency is normally evenly split between unionist and nationalist votes.
The Traditional Unionist Voice (TUV), the Green Party and the Alliance Party will also field candidates and there will be plenty of political arguments and as the ballot paper reveals no shortage of personalities.
The View was broadcast on BBC One Northern Ireland at 22:45 GMT on Thursday, 25 February.