NI to lose one Westminster seat under review of boundaries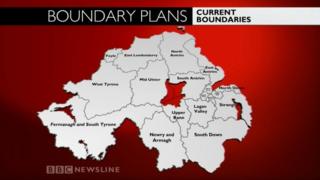 A new review of the boundaries of Northern Ireland's parliamentary constituencies has begun.
According to the local Boundary Commission, the number of seats will reduce from 18 to 17.
This is fewer than the two seat reduction initially proposed in 2011.
The change will have a knock-on impact on the future number of MLAs, which is being cut from six to five representatives per constituency in 2021.
If Northern Ireland has 17 constituencies that would mean the reduction in the number of MLAs will be from 108 to 85, not 90 as previously assumed.