EU Referendum: Pulling up UK drawbridge would be 'madness'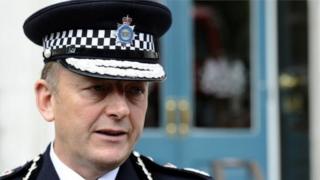 Pulling the drawbridge up on the UK by leaving the European Union would be "nothing short of madness" a former NI chief constable has said.
Sir Hugh Orde was speaking about the impact such an exit could have on fighting crime and terrorism.
He dismissed the "scaremongering" of those who want out of Europe and spoke out for remaining within the EU.
However, a senior researcher from the Get Britain Out campaign said pulling up the drawbridge "sounded quite nice".
"Why we want to tie ourselves to an organisation that has failed so regularly on security, I have no idea," Chris Carter said.
Sir Hugh and Mr Carter were speaking to the BBC's Good Morning Ulster ahead of the EU referendum on 23 June.
Sir Hugh backed Europol director Rob Wainwright's view that there were no security benefits to the UK in leaving Europe.
"To try and pull a drawbridge up and keep Britain all by itself and alone when facing international terrorist attacks and excluding ourselves from those institutions which are designed to keep us safe would be nothing short of madness," Sir Hugh said.
To those who argue for opting out of Europe and establishing stronger land borders, he said that Northern Ireland had closed borders during the Troubles, but this did not prevent attacks.
"This scaremongering notion that we are far safer excluding ourselves from the institutions that work internationally and globally to keep people safe is simply inaccurate and, I would argue, misleading," he said.
However, Mr Carter said: "The fundamental idea that upon Brexit we are somehow going to abandon all our international intelligence sharing is quite farcical."
He said that the UK was not going to stop working with Europe on security issues.
"In this increasingly globalised world, why should we be focussing all of our intelligence sharing and gathering on Europe, when the majority of these crimes happen at home or from outside of Europe. We need to work with our partners across the world," he said.
"The reason why we are seeing so much terrorism recently in Europe has been due to catastrophic failures within the EU's defence and security network," he said.
Earlier this week, Northern Ireland Secretary Theresa Villiers said she would vote to leave the EU and to take back control over making laws and controlling borders
Ms Villiers said there were "risks on both sides of this debate" but the "safer option" was to leave.