Peter Hain concerned over impact of UK exit on border controls in Ireland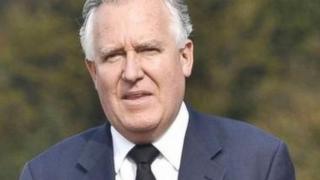 Former Northern Ireland Secretary Peter Hain has said he is concerned about how a UK exit would impact on border controls in Ireland.
Mr Hain, who was NI secretary of state from May 2005 until June 2007, said a "unique situation" existed on the island of Ireland.
He warned NI could be "dragged back" if the UK left the EU.
A referendum will be held on whether to remain in the EU on Thursday 23 June.
Prime Minister David Cameron will go to parliament later to present his argument for staying.
He will outline the details of the deal he agreed with other European leaders last week.
Mr Hain said: "We have a unique situation on the island of Ireland with a border that now exists constitutionally but, in practice, is invisible to the great benefit of people on the island of Ireland, north and south.
"As things have normalised that border has become invisible but what would happen... if Northern Ireland as part of the UK left the EU?
"I do not think that the existing border arrangements would be sustainable if we left the EU and that would have all sorts of very serious consequences for the peace process.
"I think it would drag Northern Ireland back rather than continue to take us forward as we have been."
Another former NI Secretary of State, Owen Paterson, said farmers would benefit if the UK left the EU.
'Bad deal'
"If we ran our own show and did not put in nearly £20bn into Europe, we'd have more than enough to pay farmers more if it was appropriate," he said.
"Farming is being very held back by the EU.
"I was involved in the CAP negotiations and we stopped some of the worst things happening, but we ended up with a pretty bad deal and I know farmers are very unhappy with it."
He said that if Britain left the EU, "we could all sit down in the UK and design a farming policy tailored to our own landscape".
The prime minister announced the date of the referendum after holding a cabinet meeting on Saturday to discuss his new deal with the EU.
He said the agreement gave Britain "special status".
Northern Ireland's Secretary of State Theresa Villiers has given her public support for a UK exit from the European Union.