Farmer who shot dogs: Fence damaged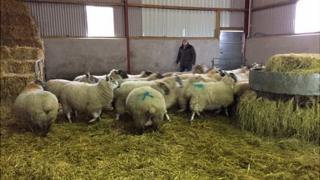 A County Down farmer who shot three hunt dogs which he says threatened his sheep has had damage caused to fencing round his land.
Alan Sloane shot the dogs which were part of a pack involved in a stag hunt near Rathfriland.
He said they were among ten staghounds which came onto his land & threatened pregnant ewes.
A number of the sheep aborted lambs after the incident.
Mr Sloane says after the story appeared last week, 20 metres of fencing was pulled out and dumped at a derelict farmhouse half a mile away.
Police say it was reported to them and they are appealing for witnesses.
They believe the damage was done between 11pm Sunday and 7am on Monday.
The Ulster Farmers Union has called on hunts to co-operate with farmers.
It says the minority which disregard an agreement it signed with the Countryside Alliance over access to land for horses & hounds, threaten that relationship.