NI Executive meetings are to be held in Fermanagh and Londonderry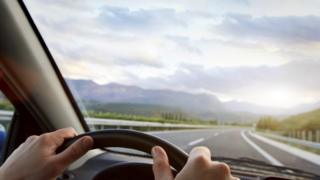 The Stormont Executive has sometimes been accused of going off-track over the last number of the years, but now it's hitting the road for real.
The first and deputy first ministers have agreed to hold executive meetings outside of Belfast in the coming weeks.
Ministers will meet in County Fermanagh and Londonderry with the first meeting taking place in February.
"I believe that politics should be a feature of every town and every community," said Arlene Foster.
The first minister added: "This is why one of the first suggestions I made to the deputy first minister was that before the elections in May, we should take executive meetings outside of Belfast."
Deputy First Minister Martin McGuinness said: "I think it is very important that executive meetings take place to cater for the needs of the people in Brookeborough and the Bogside".
Speaking to the BBC as he toured the Northern Ireland Hospice, Mr McGuinness said he had discussed the plan to move executive meetings with Mrs Foster.
He said it was important to show that there is "a big world outside of Belfast ".