Ulster Unionist Party MLA Neil Somerville to stand down due to stress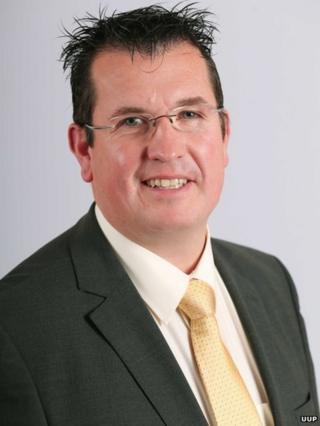 An Ulster Unionist MLA who joined the Northern Ireland Assembly in June last year is standing down due to stress.
Neil Somerville gained his seat through the co-option system that allows parties to replace departing MLAs with party colleagues without by-elections.
He replaced Tom Elliott in the Fermanagh and South Tyrone constituency after Mr Elliott became an MP last May.
Ulster Unionist Party (UUP) leader Mike Nesbitt said: "I am very sorry it didn't work out for Neil."
Canvass
Mr Somerville had previously been a councillor on Dungannon and South Tyrone Borough Council.
The UUP said Mr Somerville will be replaced before the end of January.
Mr Nesbitt added: "I was highly impressed with [Neil] during the course of the canvass that saw Tom Elliott returned as the MP for Fermanagh and South Tyrone and I look forward to working with him in the constituency in the future."
Mr Elliott said he hoped to see Mr Somerville "play a full role in his local community in the future".